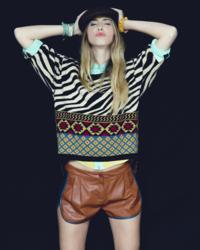 Los Angeles, CA (PRWEB) November 15, 2012
Flying Tomato, leader of young contemporary bohemian fashion world, offers a new clothing line, "Billy", to accompany its current and edgy line.
"Billy is boyish, edgy, casual and simple. This is in stark contrast to the clothing Flying Tomato is most known for," said David Lee of Flying Tomato.
"Billy" is actually a group of three different and unique clothing lines. The Maya, Caitlin and Melanie looks incorporate plaids, muted tones and a touch of color that is distinct and hip. Each piece can be matched to another piece which makes for several possible outfits from only two or three core pieces.
"We were trying to expand our line of clothing to meet the needs of an expanding core of ladies who seek stylish yet inexpensive clothes that match their unique lifestyles," Lee continued.
Flying Tomato is better known for their Bohemian approach to clothing. Mixing the carefree, unconventional look with vintage styles and patterns for a truly unique look is what Flying Tomato is all about.
"We [Flying Tomato] established ourselves as the sort of boutique for those who seek the free-flowing, open lifestyle characteristic of the Bohemian movement," Lee said.
As part of a special offer, Flying Tomato is offering two great deals. Free shipping on all orders before December 17th and $10 off the first purchase after signing up for their email newsletter.
"We look forward to serving new and existing customers," said Lee.
Interested individuals wanting to learn more about "Billy" by Flying Tomato or existing clothing lines should visit their website at: http://www.flyingtomato.com