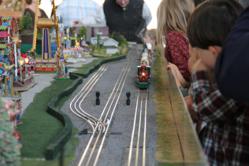 Richmond, VA (PRWEB) November 16, 2012
On the weekend after our most American of holidays – Thanksgiving - Come out to the Science Museum of Virginia for a celebration of Americana unlike any other… the 35th Annual Model Railroad Show– Friday, November 23-Sunday, November 25.
The train, the most sophisticated technological achievement of the 19th century, is still relevant today. Trains fascinate all ages and the intricate layouts on display at the Science Museum are some of the best in the country.
But wait, there's more, as if 20 fully detailed train layouts were not enough, trains have rolled into the IMAX®DOME as well with Rocky Mountain Express and The Polar Express. Rocky Mountain Express follows the epic adventure of building a nearly impossible transcontinental railway through Canadian Rockies. Our holiday tradition, the timeless classic film The Polar Express, will also be showing daily.
Keeping things right on track are live science demonstrations, railroad jeopardy and live science performances by the Carpenter Science Theatre Company. New this year is blacksmith Gerald Boggs who will be forging new items out of old railroad spikes allowing you to take home a piece of railroad history. This is the one weekend every year that you get the chance to tour the luxurious Car ONE and enjoy self-guided tours of the other train cars on the track behind the Museum.
The Model Railroad Show is included with exhibit admission. Tickets are $11 with $1 discounts for ages 4-12 and 60+. IMAX tickets and showtimes can be found, along with more information, at http://www.smv.org or by calling 804.864.1400.