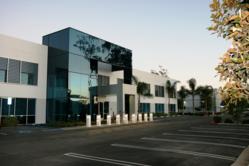 We are proud to have grown from our humble beginnings as a contract automotive gauge manufacturer to the leading supplier of on-board diagnostic tools.
Irvine, CA (PRWEB) November 15, 2012
Equus Products, Inc. is pleased to announce its 30th anniversary as a leading automotive aftermarket supplier. To mark the occasion, the company's nearly 100 employees are settling into their brand new, multi-million dollar corporate headquarters located at 17352 Von Karman Ave., in Irvine, Calif., which today hosted an invitation-only Open House. Here at this custom-built headquarters, the company designs, develops and supports its EQUUS® and INNOVA®-branded products, including the flagship INNOVA® 3100 CanOBD2 Diagnostic Tool®, with more than 1,000,000 pieces sold to date. This product alone launched the growth of the world's best-selling OBD2 line.
"We are proud to have grown from our humble beginnings as a contract automotive gauge manufacturer to the leading supplier of on-board diagnostic tools, providing millions of customers with complete solutions for their high tech vehicle repairs," said Ieon C. Chen, CEO, Equus Products, Inc. "Having all of our departments from R&D to our ASE tech support center under one roof makes us so much more efficient in delivering the highest quality products and support to our customers and end users, as we continue to work toward our vision of market leading innovation for decades to come."
Chen added that the move included a planned company personnel restructure that positions Equus and Innova for future growth both in the U.S. and international markets. The newly setup Innova de Mexico is a new joint venture company based in Mexico City that will mimic the company's U.S. operations and facility to support expansion into Mexico and beyond. Another project in process is a multi-million dollar technology company acquisition that will further poise Equus and Innova to provide its customers with the cutting-edge technology products, information and support.
Equus Products worked with architectural firm DeRevere and Associates, and Caliber Construction, Inc., to convert the 100,000-square-foot warehouse space into a high tech office, testing space and warehouse facility to meet its current and projected needs. The new building includes roughly 30,000 square feet of office, meeting and banquet space; 20,000 square feet of automotive testing space; and a 50,000-square-foot shipping warehouse. All lighting and equipment have been designed with optimum energy efficiency, including external window shades to reduce A/C use. And Equus is planning the installation of solar panels on the rooftop, among other green design enhancements. The building also features an inviting two-story lobby with plasma screens; and a 2,400-square-foot multipurpose room for exercise, training and banquets. Recently named a top workplace by The Orange County Register, Equus' employees enjoy an on-site gym, showers, table tennis and other amenities.
Founded in 1982, Equus Products, Inc., is a prime manufacturer of test equipment, gauges and tachometers for the automotive aftermarket. Some of its many product lines include replacement and performance gauges and tachometers; timing lights; digital multimeters; and automotive parts store testers. Its flagship product offerings are the INNOVA®-branded on-board diagnostic tool line and RepairSolutions® database. Launched in 2001, this line of tools for solving "check engine"-related problems has grown to account for more than 50 percent of all OBD2 products sold in their North American market. What sets it apart from other diagnostic products are its patented all-in-one display; emissions readiness monitors and unmatched repair database, which accurately diagnoses fixes down to parts and labor by postal code. This database is supported by a network of thousands of Automotive Service Excellence (ASE)-certified technicians who verify, update and expand the depth of the database daily.
Under Chen's leadership and unwilling to rest on its laurels, Equus Products has enjoyed many firsts. In 1996, Equus became the first automotive aftermarket company to employ a team of all ASE-certified technicians. In 2011, it was certified as an ISO9001-2000, company. And over the past decade, it's built the first and largest database of "check engine"-related repairs for the DIY market, with millions of verified fixes to date and counting.
About Equus Products, Inc.
Equus Products, Inc., is an ISO 9001: 2008 certified company, and a leading supplier of test equipment, gauges and tachometers for the automotive aftermarket. Founded in 1982, the company markets and distributes its line under the EQUUS® brand throughout the U.S., Canada and Mexico. In 1990, Innova Electronics Corporation was acquired for research, product design, development and technical support. Products developed under this division carry the INNOVA® brand and are designed to provide customers with easy-to-use products for servicing the vehicles of today and tomorrow. Both companies call the new Irvine, Calif.-based headquarter building home. For more information on the companies and their products, visit http://www.equus.com or http://www.innova.com.