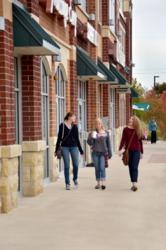 It's an excellent destination to rediscover how much fun winter can actually be!
Delafield, WI (PRWEB) November 15, 2012
Upscale, charming… The city of Delafield is magical in winter. This picturesque city in beautiful Lake Country comes alive with family-friendly events and indoor merriment in its many boutiques, shops, and restaurants. Peaceful but invigorating cross-country ski, snowshoe and snowmobile trails, as well as outdoor recreation on the lakes, draw in the outdoorsmen and women!
But it's also an excellent place to wind down from the busyness of the season and be treated to the calm pampering of one of Delafield's luxurious spas. Just 30 minutes west of Milwaukee, Delafield is a welcome escape from overbooked calendars and to-do lists. It's an excellent destination to rediscover how much fun winter can actually be.
Whether visitors enjoy time spent in the crisp outdoors or revel in all that Delafield has to offer in the decidedly warmer spas, restaurants, boutiques, and stores, visitors will find much to do and see.
Bask in the distinctive charm of Delafield's Colonial Williamsburg-styled downtown, lined with trendy stores that offer unique gift items, apparel, home décor and gourmet candy. Along it's streets, visitors can liven up taste buds with a sample of decadent chocolates, artisan breads, and enjoy tastes at the area's only premium olive oil and balsamic vinegar store. Nestled in the middle of downtown is The Delafield Hotel, a luxury hotel that was recently named the #4 top hotel in Wisconsin by U.S. News and World Report.
A short drive along beautiful Nagawicka Lake leads to the city's generous shopping districts lined with popular chains, retailers, and outstanding restaurants – all within walking distance of comfortable, well known hotels. There, take in a traditional Wisconsin Friday Fish Fry or indulge in a flavored latte, or a hearty microbrew from one of the two brewpubs in the city.
Get into the holiday spirit with these winter events:
Breakfast with the Reindeer - December 1st, 9 am-Noon
(Hwy. C & Milwaukee Street - Downtown Delafield)
A few of Santa's special flying friends touch down in Delafield. Children of all ages have the opportunity to meet live reindeer and enjoy carolers, festive music, and holiday shopping! This free event fills children with the magic of Santa Claus and offers a whimsical photo opportunity for parents. Come early to ensure receipt of a photo with Santa because he'll head back to the North Pole promptly at noon! The Delafield Area Chamber of Commerce and business member sponsors host the event.
Christmas at the Inn, Hawks Inn Historical Society - December 1 & 2, 2012
After a visit with the Reindeer, return to simpler times to celebrate the holiday season at Hawk's Inn, a fully restored, authentic 1850s stagecoach stop in downtown Delafield. Tour three floors of early Wisconsin history, with authentic items and even a diary that remains from the original owner. Enjoy fireplace cooking demonstrations, hot apple cider, doughnut holes, and roasted chestnuts, while supplies last! In the Visitor's Center, browse the Christmas Shoppe and be entertained by sing-alongs and musicians.
Book a stay to experience the holiday season in Delafield
To enjoy all that the City of Delafield offers, make reservations at one of the city's four hotels: The Delafield Hotel, the Holiday Inn Express Hotel & Suites, La Quinta Inn & Suites or the Country Pride Inn.
Make travel plans to enjoy Southeastern Wisconsin's glorious winter season in the City of Delafield.
Travelers and tour groups looking for winter getaway ideas, travel planning events and guides to the area can be discovered at VisitDelafield.org. Choose to "Like" the Delafield Chamber/Tourism at Facebook.com/VisitDelafield, follow along on Twitter at Twitter.com/VisitDelafield or call 1-888-294-1082.