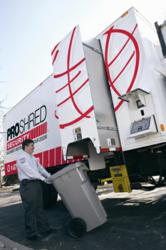 We're all New Yorkers, which means we help one another in a time of crisis.
New York City, NY (PRWEB) November 15, 2012
Hurricane Sandy was one of the most devastating storms in New York City's history leaving hundreds of thousands of residents stranded or homeless without food, water, power and basic supplies. The city and much of the eastern part of the states of New York and New Jersey have come to a halt for the last couple weeks. Many local businesses and residents are rolling up their sleeves in relief efforts; the amazing stories of goodwill have been inspiring to us.
PROSHRED® New York City, wants to do its part as well and is helping New Yorkers in their time of need. The company has offered to donate 5% of all proceeds to "Hope for New York", for all clean-out purge shreds until December 31st, 2012 (please use, DONATION CODE: NYHNY).
"We're all New Yorkers, which means we help one another in a time of crisis. Sandy devastated New York and New Jersey and we feel it's our duty to be there for our neighbors," says Tim Denman, general manager of PROSHRED® New York City. Denman personally emailed many of his clients talking about the relief efforts for the charity and hopes they can raise a sizeable amount before Christmas.
Vice President of Operations Andrew Parry, states that "PROSHRED® New York City must do its part for our community and our clients. I think it is important for all companies large or small to help, events like these affect us all, so we have to make sure to take initiative quickly".
Businesses and residence who need their documents shredded and destroyed can call Tim Denman directly at (914) 417-4123 to find out how they can help and the donation process for Hope For New York.
About PROSHRED®:
PROSHRED® shreds and recycles confidential documents and proprietary materials for thousands of customers in the United States in all industry sectors. PROSHRED® is a pioneer in the mobile document destruction and recycling industry. PROSHRED® has the distinction of the only on-site shredding company in the United States that is both NAID AAA and ISO 9001 Certified. Find out more about PROSHRED® as well as our calendar of free local community shredding events for the public at http://www.proshred.com.