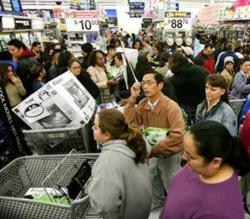 Over 1,000 Retailers are set to serve their Black Friday Offerings to consumers.
New York, NY (PRWEB) November 14, 2012
Black Friday is only 9 Days Away....
Tens of thousands of Americans are preparing for this year's Black Friday sale, which is about to happen in 8 short days. Appliances, gadgets, furnitures, clothes, shoes and even personal products are going to be offered at big discounts and consumers are expected to troop to the malls to get their fill.
With this much ground to cover, Black Friday Ads is advising shoppers to scout for items in advance; and if possible, prepare a list of things that must be bought first in order to not get distracted by other items on sale. Having a list will also help shoppers compare prices and deals being offered by some of the biggest players in the sale. Among them are Amazon, Kmart, Kohl, Sears, JC Penney and Apple.
Should You Shop Online?
Over 1,000 retailers are set to serve their Black Friday offerings to consumers. In fact, some of them have started offering sales and pre Black Friday deals to whet the appetites of their loyal shoppers. Some have also come up with flyers of product and items which will be offered on discount during the Black Friday sale. Others have ingeniously come up with coupons and gift certificates which can be redeemed on Black Friday.
As always, expect long lines at the check out and an even denser crowd of shoppers on the site itself. This experience has prompted a significant number of American shoppers to do their Black Friday shopping online. And why ever not? If you think about it, the same items being offered on sale at the actual store can be found online. There is also no need to line up at the check out and carry heavy purchases back to the car.
Shopping online offers consumers with free delivery service and the same store returns policy that is offered in the actual stores. Online purchases also allow shoppers to cover more ground as one can have multiple tabs open while shopping from a computer. Imagine how big an advantage this is for a person who is trying to score items that are marked 70% off !
The Best Black Friday Discounts
American families are known to do bulk of their shopping on Black Friday because of all the great deals on offer. Sales start at 20% off and there are even more freebies and concessions for bigger purchases. Consumers are ready to brave long drives, hours of waiting and crowded lines at the checkout for the possibility of finding that deal of a lifetime. But most of all, consumers do it for the sheer pleasure of enjoying the fruits of their labors. It's the time of the year to give themselves a pat on the back for all their hard work and achievements and reward themselves materially for it.
About BlackFridayAds.me:
BlackFridayAds.me has the Amazon.com Black Friday Ad, Macy's Black Friday Ad, KMart Black Friday Ad and the Target Black Friday Ad available to its readers. Black Friday sale information changes frequently so make sure to visit the site often.