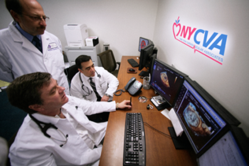 This year, NYCVA will be providing over 150 turkeys to be given out and served...
New York, NY (PRWEB) November 15, 2012
Together with New York Cardiovascular Associates (NYCVA), Hudson Guild will provide a healthy Thanksgiving dinner free to families throughout the Chelsea community.
Hudson Guild's Annual Community Thanksgiving Dinner has provided meals to 2,000 low-income individuals over the past ten years. Since 2002, community leaders, businesses and Chelsea-area restaurants and businesses have donated enough food to feed families who would not otherwise be able to enjoy a turkey dinner with all the trimmings.
This year, NYCVA will be providing over 150 turkeys to be given out and served at the 10th Annual dinner. Through this partnership, Hudson Guild will be able to deliver a health-conscious dinner to over 200 attendees. The sponsorship will also promote the maximization of health through making better food choices within the community.
"At Hudson Guild, we seek to empower all individuals and families to achieve their highest potential," says Ken Jockers, Executive Director. "We are excited to partner with New York Cardiovascular Associates, whose dedication to the promotion of optimum health and well-being is harmonious with the Guild's holistic approach to building a strong community."
The 10th Annual Community Thanksgiving Dinner will take place on Tuesday, November 20 at 6:00 p.m. at the Fulton Center, located at 119 Ninth Avenue, New York City.
About Hudson Guild
Hudson Guild is a multi-service community center serving those who live, work, or go to school in Chelsea, with a focus on those in need. Founded in 1895, Hudson Guild currently provides services to more than 14,000 people each year. The participants of Hudson Guild's programs come from a variety of cultural, ethnic and socio-economic backgrounds. The Guild offers five main service areas: Adult Services, Arts, Children and Youth Services, Mental Health Services and Community Building. Hudson Guild's mission is to create and sustain a strong, effective community that acknowledges and responds to the potential, achievements and interdependence of its diverse members. For more information visit http://www.hudsonguild.org and follow them on Facebook and Twitter.
About New York Cardiovascular Associates
New York Cardiovascular Associates was founded in 2005 and was established within the Chelsea community. It is comprised of 15 physicians who specialize in Cardiac and Vascular diseases, Internal Medicine and Pulmonology. NYCVA utilizes state of the art equipment and technologies with physicians that are recognized as leaders in their respective fields, and are committed to excellence in the treatment of patients. For over 35 years it's been our privilege to treat the patients of our community with the best care possible. For more information please visit http://www.nycva.org and follow us on Facebook and Twitter.