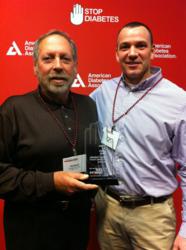 Howard Katz has made a significant, ongoing and successful commitment to helping the American Diabetes Association in its mission.
Saratoga Springs, NY (PRWEB) November 15, 2012
Howard Katz, co-captain of the Kivort Steel Tour de Cure Cycling Team, has been recognized as one of the 2011 – 2012 Stop Diabetes Award recipients for his dedication to the "Stop Diabetes Movement" of the American Diabetes Association (ADA). He received the award at the ADA's Community Volunteer Leadership Conference held in New Orleans, Louisiana, November 9 – 11, 2012. The Kivort Steel Cycling Team, which participates in the regional event in Saratoga, is the number one Tour de Cure fundraising team in New York State, and the third highest in the country in its category for the 2012 season.
The Tour de Cure is the ADA's signature fundraising event. It is a ride, not a race, with routes designed for everyone from the occasional rider to the experienced cyclist. With the participation of corporate and family teams, the Tour de Cure supports the organization's mission to prevent and cure diabetes and improve the lives of all people affected by diabetes. In 2011, more than 55,000 cyclists rode in 80 events across the country that raised more than $18 million for the cause.
The Saratoga Tour de Cure attracts riders from the Capital District and surrounding counties, including the Berkshires. The Saratoga riding course ranges from a leisurely 10 mile route to a challenging 100 mile ride, enabling riders of all levels and ages to participate.
The Kivort Steel Cycling Team was established seven years ago and is sponsored by Kivort Steel, Waterford, NY, through the initiatives of president Robert Kivort, along with the support of his partner Michael Polishchuk. Since its inception the corporate team has grown from 10 riders to 168 riders in 2012. The team has raised over $300,000 for the ADA, with nearly $250,000 of it raised in the past three years.
Katz joined the Kivort Steel Cycling Team in 2009, when he participated in his first Tour de Cure ride. Since then, along with team co-captain Dave Canfield, he has spent numerous volunteer hours behind the scenes organizing and recruiting new team members. Team goals for 2013 are to grow the team to 200 riders, ride 10,000 miles, and raise at least $101,000 for the ADA.
"I was invited by my friend Dave Canfield to participate in my first ride eight years ago, and realized I was riding not just for myself but for my brother who has type 1 diabetes, and the millions of other people who suffer from this disease," says Kivort. "It was a tremendous feeling and one that I wanted to share with my other good friend, our current co-caption Howard Katz. He spends numerous weekends from the fall to the spring visiting regional bike shops and bike paths, and signing up new recruits. Howard is a passionate advocate for the American Diabetes Association, the Tour de Cure, and Team Kivort Steel, and is very deserving of the ADA's Stop Diabetes 'Give Financial' award.'"
The Kivort Steel Tour de Cure Team has an impressive fund raising record. It was the top corporate fund-raising team in New York state the past two years and in 2012 became the third highest fund-raising corporate team in the country, right behind corporate giants Wal-Mart and Craig's List. "We are a 30 person company with a dedicated, growing riding team," says Kivort. "I am very proud that we have achieved such a noteworthy record. Howard has been instrumental in taking us to this level. We intend to stay on top of our game and continue to be a leading source of funds for the American Diabetes Association."
The Tour de Cure has become a personal mission for Katz, a resident of Clifton Park, NY. His daughter Jennifer lived with Type I diabetes, and she passed away 3 years ago at the age of 37 years. "At Robert's urging, I bought a bike and rode in my first Saratoga Tour de Cure ride." When I finished, Jennifer said, 'Thanks for riding, Dad. Thanks for helping,'" says Katz. "That was my 'Ah-hah' moment where I realized I wanted to commit myself to helping to build the team and take things to a higher and more impactful level.
"I am gratified to be receiving the American Diabetes Association's "Give Financial" award, but believe that it truly belongs to everyone on our team, and to our generous corporate sponsor Kivort Steel."
"The American Diabetes Association has three divisions nationwide, and Howard is one of three individuals in the country being awarded the 'Give Financial' award," says Amy Young, Manager of the Albany ADA office, which runs the Saratoga Tour de Cure. "Howard is a passionate leader, and has been going gangbusters year round in his efforts. He has made a significant, ongoing and successful commitment to helping the ADA in its mission."
Kivort Steel's Tour de Cure Team is already preparing for the June 2013 Saratoga ride. "It's been exciting for our company and our team to see our efforts grow, and we are looking forward to achieving our goal of breaking the $101,000 mark to help the American Diabetes Association in doing its important work," says Kivort. "This next ride should be another record-breaker, thanks to Howard, Dave, and the rest of the team."
For information on the American Diabetes Association visit http://www.diabetes.org; for information on the Albany office visit http://www.diabetes.org/about-us/local-offices/albany.html.
ABOUT KIVORT STEEL
Kivort Steel was founded 75 years ago as a scrap metal business in Warnerville, NY. Today, Kivort Steel has evolved into a full service steel distribution center that defines service in the steel industry. Kivort Steel offers a comprehensive line of carbon steel, stainless steel, and aluminum products and services customers within a 150 mile radius of Waterford, NY. The corporation is a member of numerous business and trade associations, including the Albany-Colonie Regional Chamber of Commerce; Northeastern Subcontractors Association, Inc., (NESCA); and the Saratoga Chamber of Commerce. Dedicated to being proactive in assisting the community thrive and grow, company president Robert Kivort is active in numerous regional associations and organizations. His commitments include being a foundation board member of Albany Medical Center and a board member of Woodland Hill Montessori School, and being on the executive committee of the Saratoga Springs Tour de Cure and the development committee of Albany Medical Center. Mr. Kivort is also a Compass Award recipient from Downtown Albany Business Improvement District (BID) for his involvement in the Sculpture in the Streets Program. For more information call 800-462-2616.
ABOUT THE AMERICAN DIABETES ASSOCIATION TOUR DE CURE
Tour de Cure is the American Diabetes Association's (ADA) signature fundraising cycling event. With strong support from corporations and individuals/group/and family teams, it has raised millions of dollars to find a cure for diabetes and support the ADA's mission to prevent and cure diabetes and improve the lives of all people affected by diabetes.
Tour de Cure participants register and recruit friends, co-workers, and associates to ride and raise money. The day of the event is a chance to ride and to celebrate the fundraising accomplishments of the team and individual participants as well as an opportunity to promote awareness about diabetes and the ADA. The donations help fund research for a cure for diabetes, information to help prevent the disease, and advocacy for those affected by diabetes and public awareness activities. For more information visit http://tour.diabetes.org/site/PageServer?pagename=TC_homepage&loc=DropDownIMC-TDC.