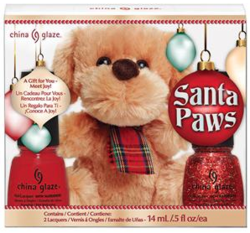 We are excited with the results of our first ever trend report, which we decided to produce for the first time this holiday season to help those shoppers struggling to find stocking stuffers and secret Santa presents give a gift that has a lot of thought
(PRWEB) November 15, 2012
After sifting through reams of data from previous years and studying demand for products, the eNails Supply trend team has predicted a surge in popularity of items including Essie nail art stickers and nail decals in the run up to the festivities. Sudeep Arya, CEO said, "We are excited with the results of our first ever trend report, which we decided to produce for the first time this holiday season to help those shoppers struggling to find stocking stuffers and secret Santa presents give a gift that has a lot of thought behind it. Having studied current fashion trends and our sales data from previous months, our projections are based on what is likely to be most popular at this time of year. Trend predicting is a great help to shoppers struggling to find something that is both fashionable and great value as well as likely to be well received."
"Those searching for unique stocking stuffers or inspiration for the annual round of Secret Santa presents in offices and workplaces around the country can now give the gift of beauty quite confidently this year."
The eNail Supply website, which is a virtual treasure trove of beauty treats for professionals and consumers alike, has a number of great value gift ideas in stock for the holiday season which are sure to prove popular. For savvy stylistas with an eye on current trends, the enduringly popular Essie nail polish makes for a wonderfully chic stocking stuffer. The go-to nail brand of the Hollywood A-list, Essie polishes are renowned for their on-trend shades, extensive color palettes and long lasting wear. Offering flawless coverage and chip-resistance, the lustrous finish adds star quality whatever the season. Winter 2012 Essie shades such as Beyond Cozy, Butler, Please, Leading Lady and Beyond Pampered are likely to be best sellers but main shades are a failsafe choice. All are priced at a purse friendly $6.99.
If your Secret Santa pick prides herself on creativity, eNail Supply's range of nail art stickers provide a fun, youthful way to update any look in an instant. Equally well suited to acrylic nail extensions as they are to natural nails, they offer an easy way to make a personal style statement and are a fun way to brighten up the annual present-giving ceremony. Nail art stickers are available in a huge range of shapes and sizes from eNail Supply, meaning there is something for everyone – pick from high-tech 3D effect transfers, rhinestone encrusted stickers or flags, hearts and flower shapes. Nail decals such as the Cina Pro 3-D in Lace Blossom and Glitter Butterflies and Flowers are ideal for adding an additional edge to a festive outfit so expect to see them gracing fingers and toes all season. Prices start from $6.49.
For fans of sculpted nail designs, any stocking stuffer from the Creative Nail Design range is sure to be gratefully received. eNail Supply carry an extensive selection of products from the salon quality brand, including luxurious intensive Almond Spa moisture scrubs, nail prep packs, nail files, lotions and polishes. A truly indulgent stocking stuffer, the Creative Nail Design products leave skin and nails looking and feeling years younger.
Ideal for anyone who has ever complained about their natural nails being weak, brittle, discolored or prone to breaking, the Nailtiques lines of nourishing nail care systems hydrate problem nails and restore them to their natural glory. A stocking stuffer with a healthy dose of TLC, the Nailtiques Sampler Kit available in formulas 1, 2 and 3 contains everything needed to set nails back on a healthy path with sample sized nail protein, moisturizer, cuticle and skin gel, conditioner and oil therapy. Full to the brim with hydrating goodness, it helps to rebuild, renew and rejuvenate nails. Kits start from $16.00 and are expected to sell out in the run up to Christmas.
About Us: eNail Supply supplies professional and salon-quality beauty products for the hands, feet and nails. It stocks a huge rand of brands including Essie Nail Polish, CND Shellac, Artistic Color Gloss and Gelish for shipping worldwide. eNail Supply supplies to licensed nail technician, aesthetician, depilatory professionals and beauty consultants as well as regular shoppers. It offers worldwide delivery and complimentary help and advice from a team of qualified technicians.