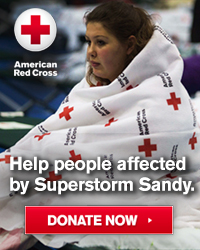 Chicago, IL (PRWEB) November 15, 2012
Online allergy and asthma product retailer, Allergy Asthma Technology, has agreed to become involved in a collective donation to the American Red Cross Disaster Relief foundation. The company will be teaming up with several other online based companies in a challenge to support Superstorm Sandy Red Cross efforts. These particular online companies are located in parts of the U.S. that were not heavily affected by Sandy and feel the need to offer assistance to the businesses and residents along the East Coast. The American Red Cross Foundation was chosen due to their exceptional disaster relief response and efforts. Volunteers work to provide services to those in need, including shelter, food, counseling and first aid. The American Red Cross is involved in other services nationwide, such as collecting and distributing almost half of the nation's blood supply, providing support for military families, offering health and safety training and education, as well as many international services.
Superstorm Sandy broke records a few weeks ago when it greeted the East Coast as a category one hurricane consisting of 80 to 90 mile per hour winds, flooding, and, in some states, inches and inches of snow. Although the hurricane was considered a category one, the weakest type of hurricane, the damage it caused was devastating, affecting 15 different states and leaving nearly eight million East Coast residents without power. As of the first weekend in November, CNN reported a Sandy death toll of over 100 Americans and an estimated $50 billion in reparations. Some extremely damaged areas along the coast, especially in New Jersey, are continuing to prohibit residents from entering their neighborhoods. Thousands of East Coasters are still left powerless as the winter season nears and temperatures begin to drop.
Allergy Asthma Technology has graciously arranged to donate five percent of their total November product web sales to American Red Cross Disaster Relief funding, in addition to the contribution the participating companies are providing. By doing so, Allergy Asthma Technology hopes other businesses will be inspired to partake in the support of this particular cause. The company also encourages its customers and website visitors to contribute, as well. An American Red Cross badge is displayed on the bottom left side of the company's web pages in which individuals can click on in order to be directed to the American Red Cross Disaster Relief funding site to complete a donation. For More Information on the Red Cross visit their homepage, http://www.redcross.org.
ABOUT ALLERGY ASTHMA TECHNOLOGY
Located in Morton Grove, IL, Allergy Asthma Technology has been helping allergic and asthmatic individuals by providing products to help with symptoms for over 40 years. The company continually searches for medically approved allergy and asthma products that will help their customers lead a healthier life. The company offers all types of anti-allergen products from allergy free bedding to UV handheld sanitizing wands. Allergy Asthma Technology is dedicated to helping enhance their customer's quality of life by providing important information, premium products, and quality customer service.