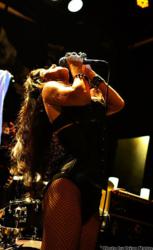 Progressive rock has rarely sounded so mesmerizing.
New York, NY (PRWEB) November 16, 2012
Vajra closes the year with their final performance at The Studio at Webster Hall on Sunday, November 18 at 9:30 PM. The show will include a multi-media presentation with video projection by Adam Weinberg and videos by Jordan Stone, Kaliptus, and Raven Noir. In keeping with the charitable spirit of Thanksgiving, a portion of the proceeds will go towards supporting music programs at local schools.
Vajra's music is hauntingly dark, weaving Gothic pop rock with eastern melodic strains. According to Daniel Davison-Amadi from Music-News, one can "expect loads of sitars, tablas and airy wind instruments in this smorgasbord of sound and emotion….Progressive rock has rarely sounded so mesmerizing. The word 'Pleroma' is defined as a 'spiritual dwelling and, fittingly, Vajra's record transports you there and makes you feel as if you never want to return."
Vajra's musical themes center around the paradoxes one encounters in life: the good and the bad, the lies and the truth, the desires and the realities.
Outfitted in a boustier and fishnets, singer-songwriter Annamaria Pinna will beguile fans with her sometimes aggressive, sometimes soothing and hypnotic voice. "Composer/singer Annamaria Pinna soars", says Nathan Pike of 'All What's Rock'. "Her voice and words are commanding, rooted in family, tradition, experience, heart and the speaking of her truth. The band that carries her does so with ease, keeping the low end tight and busy with a cool water-like bass that resonates in the chest and tummy. Ritualistic sounding drumbeats and washes of big emo guitar accompanied by some sexy slinky eastern sounds to boot, bring about moments of closed -eyed transportation to other places."
Vajra's sound has been compared to Tool, Nine Inch Nails, and Siouxsie and the Banshees.
If you want a cool ride, buy a ticket to Vajra's next show. It might be the entertaining trip of a lifetime and you can thank me for that!
Show Details:
The Studio at Webster Hall
http://www.thestudioatwebsterhall.com
125 East 11th Street
New York, NY
9:30pm
Advance $12, (email: vajratemple (at) gmail (dot) com)
DOS $15
For more about Vajra:
http://www.facebook.com/vajratemple
http://www.thevajratemple.com