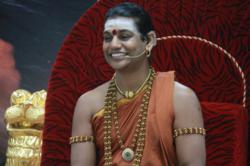 Spirituality can make you understand, the need to save the planet earth and it can awaken the creativity which naturally leads to creating the new energy without disturbing the ecology.
Los Angeles, CA (PRWEB) November 15, 2012
On 10th Nov 2012, thousands of followers from around the world joined Paris, France, via live streaming, for a talk on the subject, 'Science & Spirituality In 2012' by His Holiness Paramahamsa Nithyananda.
"Science is a system of thinking which demystifies and makes everyone understand the experiences of the outer world. Spirituality is the system of experiencing and demystifying all the experiences and happenings of the inner world."
Paramahamsa Nithyananda said, that science can never match up with spirituality because of the space gap. He said, "The gap between science and spirituality is not just in time, it is in space. Spirituality belongs to outer space.
Now in 2012 we are in unique position where the tangible experience of science almost entering into the spiritual zone and the border between energy and matter dissolving is becoming a reality . Humanity is facing a unique situation where science is just throwing its hands up and openly admitting that there are infinite questions which are unanswered.
Spirituality has more ability than science to answer more questions and quench the thirst of human beings. Enlightened beings are spiritual beings who are able to transmit experiences of much larger and deeper level depths with more clarity, larger understandings and higher realizations than any modern science and scientists. One can also easily find that even the truths which the scientists have declared about the god particles are just simple truths that were revealed ten thousand years ago in the Upanishads.
Upanishads present the highest truths of the Universe in a strong experiential way.
I tell you, till 2011 we had two departments, science and spirituality. Now especially after the God particle discovery, we have only one thing, Spirituality, which has 2 departments, outer science and inner science. Science is relaxing into spirituality.
Only when we bring the ultimate sense which is the right cognition, the right way of taking cognizance, life gives answers to all our questions. We need to know the basic truth that just the facts and data collected with the five senses and the conclusions derived by them will not be ultimate, it will not be perfect.
In the life, four things are important, the idea one has about one's self, the idea about God, the idea one has about nature and the idea one has about human society. Unfortunately science is able to handle only our ideas about nature and human society, but that is not enough, human beings need right ideas about one's self and God. Spirituality is able to handle all the four and give us the right understanding.
In 2012, spiritual understanding which is having the right cognizance about self, world, nature and humanity is the only thing that can work towards liberating us to reach the ultimate, while teaching us the depth and giving us the experience.
In 2012, our lives, our decisions, our intelligence everything needs to flow with the complete idea based on self, nature, humanity and God. If you are stuck just with nature and humanity you may not find the ultimate fulfillment. You need the right understanding about God and self also.
Quantum physics merged and disappeared into spirituality, the day when big bang theory and parallel universe was discovered. Quantum Physics is going to be preliminary truths to understand spirituality. Quantum Physics is going to be level 1 class for enlightenment science."
In response to live questions from the audience in Paris, Paramahamsa Nithyananda said, "Humanity can be saved from the big psychological disaster resulting from the natural phenomenon happening between 2012 and 2015, only by making meditation as main stream lifestyle.
Spirituality can make humanity understand, the need to save the planet earth and it can awaken the creativity in all. Then naturally the creativity will lead to creating the new energy without disturbing the ecology."
In response to a question on how not to age, Paramahamsa Nithyananda said that just practicing two unique 45minute techniques called eNFitness and Nithya Yoga, daily morning, is enough for anti-aging These unique 45 minute techniques specially choreographed by Paramahamsa Nithyananda is a mixture of the best of Yoga, Mudra, Bandha, Pranayama and Kriya. This results in a drastic increase in mitochondrial cell energy leading to anti-aging.
Video on Kundalini Awakening: http://www.youtube.com/watch?v=nDqucDVeX7Y&feature=plcp
About His Holiness Paramahamsa Nithyananda:
He is the most-watched spiritual teacher on YouTube.com with more than 16 million views, and the author of more than 300 books published in 27 global languages. Nithyananda has been named among the world's top 100 most spiritually influential personalities of 2012. An accomplished yogi and gifted spiritual healer, Paramahamsa Nithyananda has healed diseases ranging from migraine to cancer, often with a single touch.
For close to a decade now, Paramahamsa Nithyananda has been working with scientists and researchers to demystify the yogic sciences of the Universe, including kundalini awakening, DNA activation, brain-cell regeneration, levitation, materialization and yogic age-reversal.