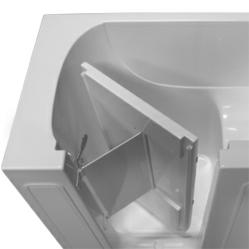 This is an exciting new program to give nursing homes, assisted living facilities, builders and other commercial customers even more incentive to be loyal clients of Aging Safely, beyond great customer service and competitive pricing.
Denver, CO (PRWEB) November 15, 2012
Aging Safely Walk In Bathtubs, a national supplier of walk in tubs, is pleased to announce a new loyalty program to benefit assisted living facilities, nursing homes and other larger commercial clients. Since commercial accounts typically purchase a large quantity of senior bathtubs, the loyalty program allows Aging Safely to show it appreciates quantity purchases by providing better benefits and enhanced service to these clients.
Commercial clients, such as nursing homes and assisted living facilities, can receive a loyalty rewards card that will monitor the quantity of walk in tubs and purchases they make while awarding loyalty points. Loyalty cards will also reward these clients with double referral fees. The card is free, and simply requires commercial clients to sign up for the program. When clients make purchases or referrals, they will receive points that can be used for discounts on senior bathtubs, roll in showers, free products, cash and other benefits. Aging Safely will also alert loyalty program members to special offers.
Zach Wennstedt, CEO of Aging Safely, said, "Our large clients must provide safe bathing options, such as walk in bathtubs, walk in showers and hydrotherapy tubs, to many seniors and mobility impaired individuals to be competitive in their industry. Aging Safely Baths has ongoing, long-term relationships with these clients, so we are thrilled to offer a loyalty program that rewards our valued commercial clients for their purchases and walk in bathroom referrals."
Aging Safely Baths will track clients participating in the loyalty rewards program to learn their needs. Some nursing homes or assisted living facilities may purchase a particular brand of walk in hydrotherapy bathtub, roll in shower, wheelchair accessible shower, or other handicap accessible bathroom fixture that promotes safe bathing. Other clients may do the bulk of their purchasing at a particular time of year. Aging Safely's loyalty program enables the company to anticipate the needs of large clients and cater to them by being attuned to their purchasing history.
Sales staff can easily identify the products preferred by each individual nursing home or assisted living facility by viewing past purchases, so Aging Safely can provide personalized service. This makes choosing walk in bathtubs and walk in showers with grab bars, non-skid flooring, convenient spray nozzles and other safety features effortless and time-efficient. Whether a commercial client wants standard senior bathtubs or soothing hydrotherapy tubs that can potentially reduce inflammation, Aging Safely works to meet the customer's budget and requirements.
Aging Safely Walk In Bathtubs offers the top rated brands on the market, so customers have unparalleled choices and confidence in their investment. All fixtures offer lifetime warranties against leaks and are available for installation or delivery only. Although Aging Safely guarantees the most competitive prices in the industry, the rewards program helps commercial customers get even deeper discounts.
Contact Information:
Zach Wennstedt
1-888-779-BATH(2284
info(at)agingsafelybaths(dot)com