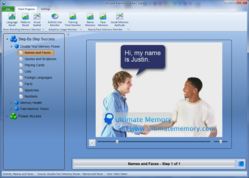 What most users have found is that the program not only works, it works very quickly.
New York City, NY (PRWEB) November 18, 2012
Many people have the impression that memory is something natural and genetic, a skill you're born with and therefore not something that can be conditioned to improve with training or exercise. What they don't realize is that just like any other ability, it is possible to work towards increasing your skill and to achieve improved memory.
Ultimate Memory sets out to prove exactly that theory by coming out with a 5 lesson memory course, absolutely free of charge. This is certainly something that will be helpful for anyone who would like to get a quick overview of some of the things that are required for fast memorization. Even those who would like to just be more organized in their everyday tasks can definitely benefit from this program.
The 5 lesson course outlines various memory techniques and methods, arranged in a very feasible and attainable learning curve. What most users have found is that the program not only works, it works very quickly. Various users who have already taken advantage of this free course have attested to how quickly they have seen significant improvements in their memory in a mere matter of days. Of course, what is crucial here is for the memory course to be done on schedule, and consistently. Otherwise, progress and development will be slower. Just as with any program of skill development, memory improvement takes regular practice.
According to Ultimate Memory director Marc Slater, these programs were specifically designed to address the average challenges confronted by learners in regards to memory-building. "There are many impediments to memory development, but these are not necessarily without a solution. The programs we have created are meant to be easy for any user, to ensure that they will be able to advance steadily with practice. It's not a marathon or a sprint, but rather a steady consistent pace that gives the desired results."
He further commented that breaking down the lessons into several categories make it easier for the learner to follow the flow of the program, without overly burdening them with too much information and too many techniques at once.
"You can't shock the memory into getting sharper with a top-heavy program. That's only going to promote more confusion," he said.
The Ultimate Memory Course was originally hosted by an eReflect mini site, but has now found a better home in ultimatememory.com. It is being offered for free.
For more information on how Ultimate Memory software can help, please visit: http://www.ultimatememory.com
About Ultimate Memory™
Ultimate Memory™ is the market's leading memory improvement software package.
Scientifically proven to improve memory with as little as ten minute's user per day, Ultimate Memory™ is also backed by an iron-clad guarantee.
Containing many innovative strategies, tutorials, tips and exercises, users benefit from a myriad of varied ways to learn.