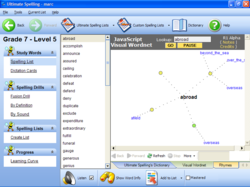 Ultimate Spelling gives all possible information and practice options so that the user can perfectly master a word's spelling.
New York City, NY (PRWEB) November 23, 2012
Ultimate Spelling announced today that it has been reviewed by a top software review site and has been found to be among the best spelling improving software. The expert, honest, and highly-trusted Top Ten Reviews website has given Ultimate Spelling a factual and detailed review, praising not only its qualities, but making a case for the features needing improvement as well.
Being a trusted spelling software review website, Top Ten Reviews emphasized the comprehensive word database that Ultimate Spelling provides, as well as how deep and effective learning to spell is thanks to all the available features of the software. According to this review, Ultimate Spelling gives all possible information and practice options so that the user can perfectly master a word's spelling. From its definition and visual representation, to pronunciation and word associations, the software leaves no room for insufficient spelling learning.
Marc Slater commented on this review Ultimate Spelling has just been informed about, saying, "Spelling software reviews that are honest and objective provide us with valuable information as to what we can do to perfect Ultimate Spelling. This review in particular has given us detailed feedback as to what aspects of the software need to be further worked on. We're flattered by its positive comments and grateful for its honest recommendations for further improvement."
Although there's no clear reason why the reviewers give a lower score for the help and support feature of Ultimate Spelling, the software still scored high amongst all ten software products reviewed. Lastly, the review mentions that despite its large selection of engaging and entertaining spelling activities, the software might not be as appealing to younger, pre-school children.
Ultimate Spelling received a satisfactory 9.88 out of 10, and as Marc Slater noted, "This score is quite meaningful - it tells us we are on the right track but not quite at the top yet. There is still room for improvement to get a clear 10 and we're already working towards that."
For more information about how technology and spelling software can improve spelling performance for you and your family, please visit the official website at http://www.ultimatespelling.com.
About Ultimate Spelling™
Ultimate Spelling provides a modern and easy to use spelling software that has been designed with one goal in mind – making children WANT to learn.
It is a fast and easy way to master even the most complicated spelling, without the need to write long lists or complete boring tests.
In fact, Ultimate Spelling provides more than just spelling help. It is a complete educational resource that boosts all level of a child's literacy.
Containing a personal computer tutor, Ultimate Spelling is the most realistic step-by-step guide to flawless spelling ability.