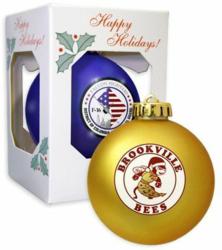 "...our holiday visitors make a point to come by during the holidays to add to their collection of ornaments." - Maureen McReynolds, McReynolds Winery
Dallas, TX (PRWEB) November 17, 2012
For many businesses, seasonal revenues during the holidays are the key to the year's finances. Sales depend upon providing desirable products and superior service along with fostering good will.
Holiday ornaments from Bagwell Promotions are increasingly popular with businesses and non-profit organizations to build sales. These decorations help enterprises to connect with their customers, prospects or donors and build strong positive relationships that contribute to the bottom line.
In keeping with the season, promotional holiday decorations make recipients feel valued and build loyalty and visibility for the organization throughout the holidays. In future years they will continue to be used by receivers again and again. "For this reason, the category continues to grow as organizations discover the tangible value of this kind of promotion," says John Bagwell of Bagwell Promotions.
Non-profits offer customized ornaments as fund raisers or gifts for donors. An ornament with a school logo becomes a highly prized memento now and in future years. Churches often include a photo of the church building or a special stained glass window on ornaments. A new version each year becomes an anticipated collector's item and is a hot seller and prized keepsake.
Personalized ornaments can become a yearly tradition in businesses too. As holiday gifts for employees, valued customers, and vendors, they are treasured by recipients. This increases loyalty and, ultimately, sales and commitment to the company.
Sue Carter, the Human Resources Director for Oregon Mutual Insurance, has commissioned customized ornaments and holiday gifts for employees for the last three years. The first year the etched image celebrated the company's gorgeous new headquarters' building. Subsequent ornaments have shown a holiday wreath and a Christmas tree. The simple message on the decoration includes the name of the company and the date.
Carter says, "I hand-deliver the ornaments for people in our area and include a little original poem with wishes for the holidays. Ones who live farther away get them by mail. Feedback from employees shows that these have already become an anticipated tradition. In fact, clients who have seen them have asked to get them too but we want them to stay special and so only give them to employees."
Travelers on the Hill Country Holiday Wine Trail receive a specialty ornament when they visit the charming log cabin tasting room at the McReynolds Winery in Cypress Mill, Texas. Co-owner Maureen McReynolds orders every year from Bagwell Promotions and explains that "Our ornaments have a Texas holiday theme. Because there are so many different varieties available and they are all reasonably priced, we can give customers something very unique for each edition. If we have any left, we sell them in the winery in later years. Some of our holiday visitors make a point to come by during the holidays to add to their collection of ornaments along with sampling the latest wines." The ornaments increase the winery traffic because they are appreciated by the customers.
Bagwell Promotions is a leading provider of promotional ornaments with more than 1,300 unique designs that can include an imprinted or engraved logo, message, or image. Depending upon the required production time, holiday ornaments can be shipped within 5 – 7 days.
Additional information is available at Bagwell Promotions or by calling toll free 1-866-281-8830.
About Bagwell Promotions:
Bagwell Promotions offers over 500,000 imprinted promotional products from 4,100 suppliers including coffee mugs, pens, flashlights, magnets, ID bracelets, key chains and an assortment of apparel. In addition to holiday ornaments, Bagwell Promotions also has other items for Christmas and Holiday promotions including customized calendars and delicious holiday edible treats.
Contact:
John Bagwell
1-866-281-8830