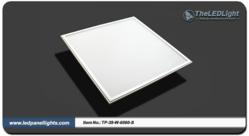 (PRWEB) November 15, 2012
Recently, The LED Light (China) released its latest product, TP-39-W-6060-S. This product is designed especially to meet the requirements of energy saving and environment protection. According to Afanso Yang, CEO of the company, TP-39-W-6060-S is a high luminous efficiency LED Panel, and it can beat any competitor's product in the current market.
High luminous efficiency always means energy saving in the LED industry. Compared with other suppliers' 70 to 80lm/w, the 91.43 lm/w of TP-39-W-6060-S can be regarded as a great progress in LED panel light technology. Moreover, it can improve the lighting effect obviously, from single dull to elegant and upscale.
LED lights and power supply are the most important components of a top LED panel product. With the appliance of high quality components from top brand suppliers' components (Samsung's SMD 5630 LED lights and Taiwan Meanwell's power supply), TP-39-W-6060-S is regarded as a reliable product in the LED market.
For more details about TP-39-W-6060-S, please visit:
http://www.ledpanellights.com/led-panel-light-high-lumen-tp-39-w-6060-s.html
Afanso Yang stated, "This new product is specially designed to meet the requirements of environmental protection and safe use. It is suitable for office, shopping mall, living house, art gallery and museum, where it needs a reliable, elegance, and energy-saving lighting effect."
About The LED Light (China) Co., Limited
Founded in 2005, The LED Light (China) Co., Limited is a professional manufacturer of LED products, and its 99% LED light panel products were exported to Europe and America in the past eight years. The company has been hailed as the most reliable LED accessory wholesaler by distributors and well popular among customers by virtue of good services.