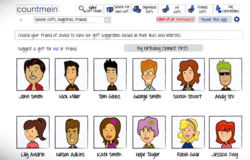 It's a simple, effortless solution for consumers that alleviates the common stresses of collaborating on holiday shopping and gift-giving
(PRWEB) November 15, 2012
Today, CountMeIn introduces and invites Pinterest users to explore a new experience that bridges Pinterest with collaborative social gifting on Facebook.
For the first time, Pinterest fans can "Pin" or share in a unique way by creating a direct link between products and CountMeIn's social gifting platform; a virtual international mall that supports group contributions to any gift.
From Pinterest, friends and family can browse through their loved ones' "Holiday Wish List" boards and select a gift and/or gift registry to contribute alone, or together as a group by "chipping-in" on just a portion of the purchase via CountMeIn's platform.
CountMeIn's truly collaborative solution comes just in time for the holidays and aims to assist Pinterest users by providing a unique spin on the typical Pin Board; aspiring owners now have a way to highlight their favorite products while giving their networks a solution to collectively fulfil their holiday wishes from across the globe.
"It's a simple, effortless solution for consumers that alleviates the common stresses of collaborating on holiday shopping and gift-giving" says Jeff Saul, CEO of CountMeIn.
In celebration of this announcement CountMeIn will launch a Pinterest contest, which will award winners with a gift selected within CMI's virtual mall. Contest will run from November 15th to December 15th, 2012. Visit CountMeIn's Pinterest Contest to learn more.
CountMeIn users can browse and share a vast assortment of categories including electronics, entertainment (over 400,000 music, movies and games), luxury items, sports apparel & memorabilia (over 400,000 items), specialty pet products (over 100,000), as well as flat-rate travel packages to over 240 destinations, and over 180 gift cards from well-known retailers.
Pinterest users can create gift boards, not only for themselves but also for family and friends through the use of CMI's intelligence system. Within CountMeIn, users can generate the perfect gifts for their friends through "Likes" and interests. Both gifts and/or gift registries can also be shared on Facebook or via Twitter.
For retailers, CountMeIn's enterprise solution enables retailers to create their own branded experience within CountMeIn's platform, which brings them a full suite of tools to protect their brand and amplify their products' reach across multiple social channels, with very little effort and no upfront cost. It's a fully integrated ecommerce omni-channel platform, allowing brands to manage their consumers anywhere from brick and mortar to mobile, from web to social media.
About CountMeIn
CountMeIn aims to assist brands and retailers in monetizing their fans and followers, using an easy-to-use, all-in-one solution to increase sales and conversions by bridging the gap of contribution, sale and collaboration. For consumers, it's a fun shopping experience that enables them to promote the products they want and love, with the added benefit of using an intuitive platform that can organize gifts for anyone across multiple platforms.
Visit the CountMeIn App and connect with the team on Facebook, Twitter and Pinterest.