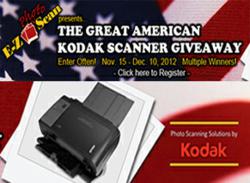 Two lucky winners will receive a state-of-the-art Kodak PS50 high speed scanner with enhanced capabilities for managing photographs, documents, and scannable memorabilia.
Altamonte Springs, FL (PRWEB) November 15, 2012
For the photo scanning hobbyist who is ready to move up to professional grade scanning capabilities, or the family memories archivist who deserves a machine that can keep up with any task, EZPhotoScan.com today announced the launch of the Great American Kodak Scanner Giveaway.
Two lucky winners will receive a state-of-the-art Kodak PS50 high speed scanner with enhanced capabilities for managing photographs, documents, and scannable memorabilia unprecedented in the high volume photo scanning market today. The Kodak PS50 scanner makes it easier than ever to transform a lifetime of photographs and treasured memories into high quality digital files so they can be preserved, shared, and displayed in exciting new ways.
The Kodak PS50 high speed scanners is the result of Kodak's commitment to producing a streak-free, high-speed photo scanner that incorporates features based on years of customer feedback for a trouble-free scanning experience. The Kodak PS50 can scan up to 50 pictures per minute at 300 DPI. Its photo separation module is safe for even delicate printed photographs, and Kodak's new image guide has no glass for virtually streak-free operation.
"This is a dream-come-true scanner for every hobbyist, archivist, and small business owner with sizeable scanning needs," says EZPhotoScan.com founder and owner Richard Lippert.
"We are so excited to be able to give away two of these amazing machines to two lucky winners, in plenty of time for Christmas."
To be eligible to win one of the two Kodak PS50 scanners from EZPhotoScan.com, simply go to the Great American Kodak Scanner Giveaway and enter. Then come back tomorrow and enter again; individuals can enter once every 24 hours, and of course, the more times they enter, the better their chances of winning! There is no purchase necessary to win.
Potential winners will be selected in a random drawing from among all eligible entries received. The grand prize drawing will be conducted on or about December 12, 2012. Odds of winning will depend on the total number of eligible entries received throughout the sweepstakes period. Potential grand prize winners will be contacted by phone, email and/or a USPS mail package of prize confirmation.
This contest is sponsored by powered by i/o Trak, Inc./E-Z Photo Scan and administered by American Sweepstakes & Promotion Company, 300 State St. Suite 402 Rochester, NY 14614.
The sweepstakes began at 12:00:01 a.m. Eastern Standard Time (EST) on November 15, 2012 and ends at 11:59:59 p.m. EST on December 10, 2012. Eligible entrants can enter the sweepstakes by completing the online registration form available at http://www.ezphpotoscanning.com/giveaway. Each entrant will be required to provide their name, complete mailing address, date of birth, phone number, and Email address. All entries must be received by 11:59:59 p.m. EST on December 10, 2012. Limit one (1) entry person per all required information during each 24-hour period of the Sweepstakes Period. Sponsor reserves the right to disqualify any person or Entrant's required information that is submitted more than maximum allowed entries.
All required information must be provided to enter and to be eligible to win. Incomplete entries will be disqualified.
For a complete list of contest rules, visit EZPhotoScan.com/giveaway/rules.
Two (2) Grand Prizes will be awarded following the conclusion of the Sweepstakes Period. Each Grand Prize Winner, upon verification of eligibility, will receive a Kodak Picture Saver Scanner Model PS 50 with an approximate retail value of $2,195. Total prize pool is $4,390.
For more information or to sign up to be included in the free drawing, visit EZPhotoScan.com, E-Photo Scan's Facebook page, or Kodakphotoscanner.com
For more information on special value pricing for Kodak high volume, high speed photo scanners, visit the EZPhotoScan.com website, call 1-866-562-4660, or Email info (at) EZPhotoScan (dot) com.
About EZPhotoScan.com:
Founded by owner Richard Lippert in 1995, EZPhotoScan.com has turned the task of managing documents into an art form. The EZPhotoScan.com group was formed to offer best-in-class solutions for scanning pictures, printed memories, and sensitive documents. EZPhotoScan.com provides full service assistance to individuals looking to do their own scanning, have it done for them, or start their own conversion service.