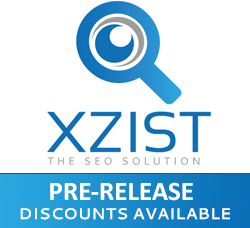 Quickly and easily highlight areas that will promote maximum online growth via search engines!
(PRWEB UK) 20 November 2012
For a business to reach its full online potential it needs to be visible for a number of industry relevant keywords. The factors which need to be considered in order to reach the ever elusive first page are in an almost constant flux however the core factors have remained the same for a long time. It is these core factors that the Xzist platform is built around.
The Xzist objective is to support web users to optimize as many ranking factors as possible; stripping back the layers and looking under the hood at industry standards that control website rankings.
The platform has been developed for SEO agencies, marketing companies, web design businesses and individual website owners in order to help them quickly and easily highlight areas that will promote maximum online growth via search engines.
Xzist offers detailed analysis, coupled with step by step tutorials tailored to assist individuals to implement positive changes in order for websites to achieve elevated search engine rankings!
The product has been designed to promote the importance of advanced SEO and offers a working platform tailored to be a one stop shop.
What do Xzist offer? Some of their key features are explained:

General on-page SEO Analysis
Using up to date on page SEO factors. The Xzist platform provides a score which reviews the overall standard of on page optimization for any URL.
Website Usability Analysis
Gaining more visitors to a website is a pointless task if they cannot be converted into customers. The Xzist platform considers the most important usability factors; encouraging clients to implement recommended changes to their websites and providing valuable information on why this should be done.
Keyword Specific Optimization Analysis
When performing SEO, there is always a primary keyword that is considered to be significantly more important than any other. Xzist provide customers with the ability to analyse any webpage for keywords of their choice. The option to then further scrutinize a webpage with as many other individual keywords allows for a more thorough tactical analysis.
Analysing a website and knowing its ranking factors provides the website owner with many advantages, however having indepth knowledge of market competitors provides the user with an edge to obtain those elusive first page rankings. Use the Xzist platform to analyse competitors' on-page factors as well as many different off page factors to gain a thorough overview of what is occuring in the marketplace.
Competitor Backlink Analysis
Finding good quality backlinks that help achieve first page rankings is one of the most difficult and time consuming parts for any SEO campaign. Using the backlink section of Xzist, the option to find and export tens of thousands of backlinks for any chosen URL will be seemless. Armed with this information, the option exists to separate the good from the bad and replicate only the very best backlinks for webpages.
For SEO Agencies, Marketing companies and Web Design companies, selling SEO as a service can be the most difficult task undertaken on a daily basis. Xzist has been developed to automatically generate and prioritize key selling points for any URL via the click of a button. From teams that work from a sales script, Xzist can integrate these key selling points into any script provided.
Step by Step Multi-Platform Tutorials
Not every practitioner of SEO or website owner has the full knowledge on how to fix issues for every web design/development platform that is popular. The team at Xzist have spent countless hours writing full step by step instructions explaining how to fix a multitude of errors for the most common CMS (Content Management Systems) and E commerce websites.
Whether one's abilities are in Advanced SEO, as a Marketer or a Website owner the Xzist platform has been designed to provide detailed website analysis, arming the individual with a multipurpose suite aimed at being the driving factor to propel a website to the first page of search engines; increasing business through website visibility and traffic.
Visit Xzist today to take advantage of pre-release discounts and join the revolution!