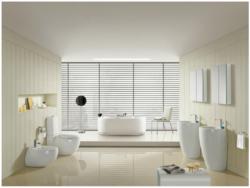 The company assures customers that even though prices have been slashed, the quality of their products have not.
Allen, TX (PRWEB) November 18, 2012
The Interior Gallery recently added over 26 new modern bathroom bidet designs to their selection of luxuriously designed bidets. The new designs were introduced to match some of the items in the company's range of modern bathroom toilets. Many of the bidet designs are available in both black and white which are in keeping with the latest home bathroom design trends.
As with all their modern bathroom items, the new bidet designs incorporate both form and function in a seamless manner. Designs are understated and elegant, affording it the flexibility of fitting effortlessly into almost any modern bathroom design. This owes a lot to a well thought out creative process which every design goes through.
The company's main distribution center is located in Carrollton, Texas, while its showroom is located in Allen, Texas. Every item displayed on the company's web site, TheInteriorGallery.com, can be found at its showroom. The showroom itself cost the company a total of $3 million in investments.
With literally hundreds of designs available for viewing, shoppers are advised to view and purchase items via the company's online store for convenience. The company recently redesigned their web store to improve user experience and facilitate purchases. Products are clearly segregated into appropriate categories, a zoom tool is available to view finer features and page layouts have been improved to avoid clutter. In addition, a product suggestion section has been included to aid shoppers on accessory ideas. The company uses InstanteStore's online store software for its web store.
The Interior Gallery, which was featured on the DIY Network and with TLC's Moving Up show, has maintained its practice of slashing prices of some of its products by up to 60%. Customers pay only factory direct prices for those items, thus profiting from massive savings.
Prices of a modern bathroom bidet model displayed on the site average around $400, which is 50% off retail prices. The company assures customers that even though prices have been slashed, the quality of their products have not. Every single item is checked and repackaged with additional industrial strength packaging materials before it allowed to be shipped directly to customers.
Aside from bidets and other modern bathroom items like bathroom vanities and modern bathtubs, The Interior Gallery has made a name a name for itself for selling stylish living room and dining room furniture at heavily discounted prices. The company is also known for selling statues which can range from a 1.5 foot Iguana to a 33 foot T-Rex.
To find out more about The Interior Gallery and its products and services, please visit http://www.TheInteriorGallery.com.