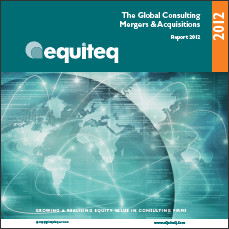 It's been a pleasure working with the Equiteq/Corbett Keeling team, their expertise in our sector and attention to detail was instrumental in making the deal happen with a win/win deal structure for both parties
London (PRWEB UK) 15 November 2012
Equiteq and its UK corporate finance partner Corbett Keeling, are pleased to announce that their healthcare consulting client pH Associates (pH), has been acquired by Chime Communications plc. pH will become part of Chime's healthcare communications division, OPEN Health. The deal was completed on 15th October 2012.
Corbett Keeling and Equiteq are merger and acquisition specialists. Together they operate as partners in the interests of clients in the UK Business Services sector. Equiteq provides equity growth strategy and M&A transaction services to the consulting and IT services sector. Corbett Keeling provides corporate finance services.
pH's two owner-directors are Kate Peperell and Lesley Howell. They appointed Equiteq and Corbett Keeling as their team on this deal because of the unique combination of Equiteq's deep consulting domain expertise and Corbett Keeling's 20 years of Corporate Finance experience. Lesley Howell said:
"We are absolutely delighted with the deal, our new home with Chime and what that means for the future of our business. It's been a pleasure working with the Corbett Keeling/Equiteq team, their expertise in our sector and attention to detail was instrumental in making the deal happen with a win/win deal structure for both parties."
For more information and media enquiries, contact Tony Rice on +44 203 651 0607, tony (dot) rice (at) equiteq (dot) com, or visit http://www.equiteq.com/report to download our Global Consulting M&A Report.
About Equiteq
Equiteq is an equity growth strategy and M&A transaction specialist for consulting firms. We work with SME consulting firm shareholders in order to help them achieve their business objectives and exit strategies.
About Corbett Keeling
Corbett Keeling is a corporate finance advisory firm focused on advising management teams on buy-outs and owners on sales of, or other exits from, businesses. We are a member of Globalscope Partners, the international network of M&A advisors, serving the international transaction requirements of our clients