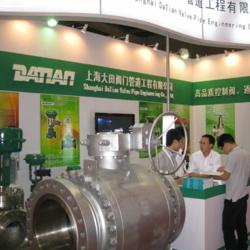 (PRWEB) November 15, 2012
DaTianValve.com, a leading valve supplier from China, now is launching a promotion of 19% discount coupons to acknowledge new and old customers. According to Steve Zhao, marketing manager of DaTianValve.com, the promotion is valid for all of its control valve collection, which mainly includes flow control valve, pneumatic three way control valve, self-operated control valve, electric three way control valve, and etc.
On the page of DaTianValve.com, customers can find the models they need easily. Steve Zhao said, "The overseas market is the biggest market for our company, and we are happy to see fast growth there. Since we launched the globe valve promotion in July, the market response is very good. Now, it is time for us to do something to acknowledge our customers."
DaTianValve.com has established its reputation in the valve industry in the past few years, and its valves are easy to install and known for their high performance and durability. Brain, a customer from London, said, "We started to cooperate with them five years ago, and we trust their product quality."
DaTianValve.com has promised to spare no energy to provide customers with high-quality products along with as fast delivery.
Steve Zhao added, "Our control valves cater to the application needs of various industries such as petrochemical, refineries, chemical, power plant, fertilizers and various others. Furthermore, our range is available in different specifications to suit varied requirements of the clients."
About DaTianValve.com
DaTianValve.com is a professional valve manufacturer located in China, offering a wide range of valves, including ball valve, gate valve, manual valve, automatic valve, lining valve and fittings. Most of their customers are from Europe, North America, Britain, Japan, Australia and some Middle East countries.
More information can be found at http://www.datianvalve.com/