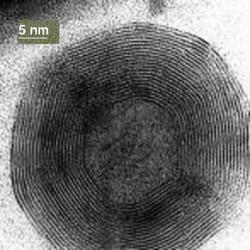 Oneline Technologies intends to distribute NanoMaterials' new generation, inorganic, engine oil additives to clients in Asia, and promote the award-winning technology in Asia trade channels.
Yavne, Israel (PRWEB) November 17, 2012
NanoMaterials Ltd. announced first shipments of its NanoLub® engine oil AF/AW additives to Oneline Technologies Pte Ltd. of Singapore. Oneline Technologies intends to distribute NanoMaterials' new generation, inorganic, engine oil additives to clients in Asia, and promote the award-winning technology in Asia trade channels. NanoMaterials pioneering products are based on Weizmann Institute of Science (WIS) ground-breaking technology for producing multi-layered Fullerenes from super-strong, metal-inorganic WS2 material.
NanoMaterials' NanoLub® series is the first successful commercial implementation of inorganic, multi-layered Fullerene technology to create Extreme Pressure (EP) nanolubricants. Series products have proven an outstanding capacity to improve engine performance and extend oil life under extreme conditions. The unique nanoparticles also feature a unique continuous tribofilm-release mechanism that helps repair wear damages and coat moving engine parts with a super-lubricating coating.
Tests have shown that incorporating NanoMaterials' inorganic, lubricant additives into oil and grease formulations delivers a range of performance enhancement including:

Higher friction reduction
Reduced wear of contacting surfaces
Reversal of existing wear damages
Extended energy efficiency
Reduced heating.
These translate to significant cost and performance benefits such as lower energy consumption, extended effective operation of mechanisms, extended lubricant life, extended machinery life, and reduced emissions.
"According to industry figures, with around 37 million metric tons, Asia-Pacific is the largest and fastest growing lubricant market in world!", says Baruch Halpert, Chairman and CEO of NanoMaterials Ltd: "Being the first to offer fully commercial inorganic AF/AW nanolubricants puts us and our partners in a perfect position to meet the huge demand for energy-saving, performance-enhancing lubricants".
"The independent comparative performance tests are compelling", says Stewart Leong, CEO of Oneline Technologies Pte Ltd.: "In a highly competitive market, we are now in a position to offer a truly game changing product. We intend to introduce this product not only to Singapore but to additional Asian markets. Being a ground breaking technology for AF/AW purposes, this product is extremely relevant to a wide range of automotive, industrial and other markets. We fully understand that many potential users may have tried conventional lubricants, and one of our important missions is to create awareness to the big difference that inorganic, multi-layered nano-Fullerenes bring".
About NanoMaterials Ltd.
NanoMaterials, also known as ApNano - Active Protection NANOmaterials, is a pioneer of inorganic, multi-layered fullerenes since 2002. NanoMaterials has been the first to succeed in the commercial production of inorganic, multi-layered nanofullerenes and nanotubes, based on Weizmann Institute of Science (WIS) patented platform technology. The company's WS2-based nanomaterials opened up new possibilities for developing extreme performance lubricants, coatings and polymer composites. These materials feature outstanding extreme temperature (ET) and extreme pressure (EP) properties. The composition and morphology of these materials create a unique mechanism of friction-induced Triboflim release. The exfoliated nano particles attach to working-surfaces, fill in wear crevices and coat working surfaces with a continuous super-lubrication layer. This "surface reconditioning" effect improves energy efficiency, extends effective operation, and extends machinery and lubricant life. NanoMaterials has earned international recognition and won numerous innovation and excellence awards. The company's NanoLubTM family of Extreme Pressure (EP) lubrication applications (oils, greases, dry) gains growing recognition and demand in the automotive, heavy equipment, industry and other markets.
For more information, visit http://www.apnano.com
About Oneline Technologies Pte Ltd.
Oneline Technologies Pte Ltd. is a sister company of Oneline Industrial Resources Pte Ltd. - a provider of control, instrumentation and servicing solutions to major customers in a wide range of industries in the South East Asia region. The company's management team has more than 25 years of working experiences, serving clients in industries such as high-tech, infrastructure, natural resources, transport, chemistry, pulp and paper and others. With main offices in Singapore, the company has affiliates in various Asia markets. Oneline Industrial Resources Pte Ltd. represents global enterprises.
For more information, visit http://www.onelineir.com
This press release contains "forward-looking statements" within the meaning of the Private Securities Litigation Reform Act of 1995, regarding the Company's business strategy and future plans of operations. Forward-looking statements involve known and unknown risks and uncertainties, both general and specific to the matters discussed in this press release. These and other important factors, including those mentioned in various Securities and Exchange Commission filings made periodically by the Company, may cause the Company's actual results and performance to differ materially from the future results and performance expressed in or implied by such forward-looking statements. The forward-looking statements contained in this press release speak only as of the date hereof and the Company expressly disclaims any obligation to provide public updates, revisions or amendments to any forward-looking statements made herein to reflect changes in the Company's expectations or future events.
Contact:
NanoMaterials Ltd
Alon Laster, International Sales Manager
Email: alaster (at) apnano (dot) com
Tel.: +972-54-69 555 46
Oneline Industrial Resources Pte Ltd.
Stewart Leong, CEO
Email: sleong (at) onelineir (dot) com
Tel.: +0065-6784-6909