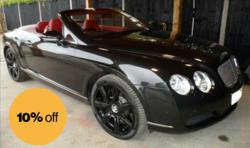 Thanks to the prestige car hire company, "Prestige Car Club", you can now enjoy driving world-class supercars and prestige cars without ever having to own any
London, UK (PRWEB UK) 19 November 2012
To many people, especially those who never miss an episode of the UK's best-known car-related TV show, 'Top Gear', driving a prestige car sounds like fantastic fun. However, for many people, driving a prestige car can also often seem financially prohibitive, given the many dauntingly high expenses which can be incurred from prestige car ownership. However, a wide range of people can now enjoy driving world-class supercars and prestige cars without ever having to own any, thanks to the prestige car hire company 'Prestige Car Club'.
Typically, owning a prestige car can necessitate a number of financially costly responsibilities, including those of insuring, servicing and garaging the car. Furthermore, the financial burdens of taking care of multiple prestige cars can make those of taking care of just one such car look - amazingly - cheap. However, through hiring prestige cars from 'Prestige Car Club', it is possible to avert any such burdens while still enjoying driving a great variety and number of prestige cars.
Prestige Car Club offers a top choice of prestige cars for hire
There are many attractive aspects of the service available from Prestige Car Club that elevate it in quality over that available from other prestige car hire companies. Prestige Car Club customers can, for example, benefit from an especially exciting choice of supercars and performance cars to hire. This choice changes regularly, which helps to ensure that many of the firm's customers can hire prestige cars of many brands, including Ferrari, Porsche, Lamborghini and Aston Martin.
The key to the great service available from Prestige Car Club
The company also offers a VIP service from the Prestige Crew. This service ensures that, when someone hires a car from Prestige Car Club, they can benefit from a dedicated team of engineers, mechanics, drivers and customer service executives who can endeavour to make sure that every part of the company's service runs smoothly. Furthermore, Prestige Car Club has so much confidence in the reliability of its services that it pledges to provide any customer that it lets down through either being late or not giving them the car they order with a solid gold key by top London jeweller Theo Fennell. Reassuringly, however, they have never yet had to give away any such key!
A 'Prestige Car Club' spokesperson stated: "We know that many British people would love to have opportunities to drive prestige cars, whether for business trips, days out or just for the fun of it. However, we also know that many British people have nowhere near enough money spare to both buy and maintain a prestige car like the ones available for hire through Prestige Car Club. This is why we set up Prestige Car Club in 2008, and we already have many satisfied customers."
The 'Prestige Car Club' website is likely to see rising and rising numbers of visitors over the approaching years, in response to the rising use of the World Wide Web (WWW) in the UK and the rising awareness of the great number and quality of world-class supercars and prestige cars available to affordably hire courtesy of prestige car hire company 'Prestige Car Club'.
Contact
Website: http://www.prestigecarclub.co.uk/
Address: Suite 18785, Lower Ground Floor, 145-157 St John Street, London, EC1V 4PW
Call: 0844 496 8433