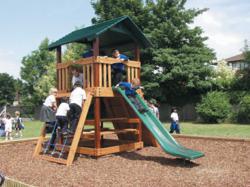 "The playground equipment that Timberline provided our school was of the highest quality. Id highly recommend Timberline to other schools looking for new playground equipment." Duncan White, Head Teacher Holly Primary School Mansfield.
(PRWEB UK) 16 November 2012
The Importance of Playground Equipment for Schools
Health and exercise is essential to a child's development and growth. Their physical exercise needs are largely met through playing. Children move their bodies by climbing, jumping, running, hopping, crawling and sliding every which way whilst they play. Playground equipment for schools should specifically cater for all of these activities and more, encouraging children down the path of a healthy lifestyle. It is crucial that schools choose equipment that is suitable and the new free service from Timberline will provide schools with a much needed resource. An experienced advisor will visit the school and advise on the equipment to match the children's needs, the school environment and the available budget.
Playground equipment is an excellent way for children to combine fun with exercise. Balance, speed and agility can be improved using Zig Zag Beams, Log Weavers and Adventure Climbers in particular. High quality wooden climbing towers provide the perfect opportunity for children to be active with ways up, ways down, slides, towers, beams, things to climb on and many more interactions to keep them engaged.
Playground Equipment for Schools can encourage social development
Meeting other children outside in the playground introduces them to the world outside their comfort zone and encourages them to adapt to new situations. The playground offers the early opportunities for team building and the formation of friendships and long lasting social bonds. It is these social skills that are learned at a young age that will continue to play an important role in their futures.
Playground equipment is essential in a school as it encourages children to learn how to associate with others as they share and communicate with each other whilst using the equipment. Climbing towers provide the perfect opportunity for children to negotiate with their peers over certain activities such as turn taking on the slides and helping each other to climb up the ladders, vertical steps or rockwalls. Playgrounds provide a stable starting foundation for children, and they play a large role as they grow and mature.
Playground Storage Equipment An Opportunity For Interaction
It's not just the playground activity equipment that is important for schools, the storage equipment is just as vital. We know that sometimes it's the little touches that make a big difference in turning your playground into a beautiful but useable area. There are many storage solutions that can be used alongside your playground equipment to ensure your playground remains tidy at the end of the day. A Traditional Storage House can be a real focal point in your playground. Its great to teach children the importance of tidying up after themselves and putting their equipment away at the end of the day. Timberline units provide the perfect opportunity to involve the whole class in a fun clean up session at the end of the day, and to teach them important lessons that will transfer into adult life.
Playground Equipment Help Is Available for Free
Timberline based in Chesterfield offer advice from their FREE in-house Funding Consultants. They are ready to help you identify the playground equipment that will work best for you. Call 0845 606 6475 or visit http://www.timberline.co.uk for advice and guidance.