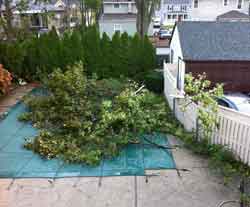 We're lucky we didn't get any flooding but Long Island is devastated, said the owner of Mr Handyman on the Gold Coast. We've got customer's to help, and our own homes need repairs.
(PRWEB) November 16, 2012
Hurricane Sandy is both devastating and a wake up call that our lives are changing, that today's world is very different than the world we grew up in. We're constantly juggling priorities and often put our homes on the back burner, and then a storm changes our lives.
Homeowners are learning a tough lesson that it's important to understand your home owners insurance before a hurricane (do you have flood insurance?) and there are ways to prepare yourself, your family and your home for evacuation and to minimize storm damage.
What's lacking is a cohesive library of information that communicates what homeowners need to learn before, during and after any type of storm. There are hundreds of government websites (FEMA, EPA and more), utility and insurance websites plus scattered bits of information on real estate and construction websites. They all communicate pieces of what every affected homeowner needs to understand but the homeowner is on their own, to stitch together their own roadmap for restoring their lives and homes.
HomeTips4Women.com provides an alternative, a single website to educate women homeowners who want to learn and proactively manage their homes. Homeowners who want to make informed decisions and find the best resources for any job, have access to a growing library of articles that explain any aspect of home ownership, from the homeowner perspective.
We're working with business owners responding to customers who were affected by Hurricane Sandy. Phil Sattler, a handyman owner on Long Island requested help with homeowner priorities for cleaning up after the storm. This series shares the expertise of home professionals, with homeowners preparing for and recovering from storms. We're adding articles every day and welcome homeowner stories, as your story can help other homeowners know they're not alone.
-- Hurricane Preparedness Checklist
-- Hurricane Cleanup & Planning for Repairs
-- Flood Insurance Might be a Bargain
-- Managing Home Repairs After a Hurricane
-- More articles coming on topics like repairing basements and other flood prone spaces, building materials that can get wet, building codes for high wind locations, products like generators and sump pumps, etc.
About Home Tips 4 Women
Tina Gleisner is the founder of Home Tips 4 Women (http://www.HomeTips4Women.com). A homeowner for more than 30 years, Tina ran a handyman business for 8 years and now helps homeowners learn about their homes through articles, videos and interviews with home professionals who practice their trade every day in — real estate, construction, home maintenance, decorating and green energy. Busy homeowners can visit one website to research problems and projects. Advice covers planning, budgeting and implementation choices from do-it-yourself to finding the right home professional.