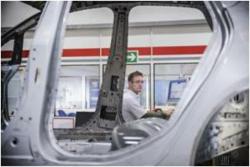 (PRWEB UK) 15 November 2012
There is brilliant engineering and manufacturing talent in the UK – and for some reason the UK has been a little shy of talking about it.
That's not something our Victorian forebears would ever have done.
So it's really good to see that Vauxhall is taking such a positive stance with young students – along with business leaders – to display what automotive manufacturing can offer at the Birmingham's Skills Show, this Friday (16 November 2012).
Both Vauxhall's plant director at its Luton plant - Mike Wright – where Vauxhall makes the Vivaro business van, and Jamie Craig, the general assembly manager at Ellesmere Port where Vauxhall makes the Astra business car, will be engaging their enthusiasm for manufacturing with students from a variety of secondary schools.
The Skills Show, billed as the biggest skills and careers event of the year, is designed to highlight the vital importance of gaining skills that will help create future economic growth. As many as 100,000 visitors will visit the show aimed at inspiring the engineers, fashion designers and web developers of tomorrow.
Vauxhall is part of the General Motors empire, the world's largest automotive organisation. Both Luton and Ellesmere Port won the competition to make the next generation models due to be launched in 2014 (Luton) and 2015 (Ellesmere Port) thanks to keeping these plants industrially competitive.
Mike and Jamie may inspire students to take up the mantle of pushing forward Vauxhall into the future with new ideas, and engineering expertise – and cement the future of both Vauxhall's manufacturing centres for building business vans and business cars of tomorrow.
Business Car Manager has a variety of useful guides including business car lease, business car profiles and detailed reviews including SEAT reviews among others.
For more information visit Business Car Manager at: http://www.businesscarmanager.co.uk or