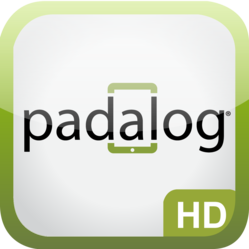 If you want to sell more, with less work and less expense, Padalog is for you.
Chicago, IL (PRWEB) November 27, 2012
Padalog LLC today announced that their latest release, Padalog HD, is now available exclusively for the iPad. Padalog HD enhances sales team productivity by turning an iPad into a mobile sales tool with your company's complete product catalog and quotation functionality.
With Padalog HD, businesses can put products and information into an interactive catalog app for the Apple® iPad® quickly and easily, without programming or special knowledge. There's nothing else like this available. Padalog HD launched today to become the fastest, most powerful and cost-effective way to use a mobile app to create a competitive advantage for businesses of all types and sizes.
"If you want to sell more, with less work and less expense, Padalog is for you," said Joe Wein, Padalog's founder and a successful, tech-savvy business owner with a strong interest in mobile computing. "The iPad is revolutionizing access to information. Smart, successful companies are getting out in front reaching their target audiences through technology."
Padalog HD is now available for free download from Apple's App Store and business subscriptions start at $19 per month with no up-front costs or long-term commitments. Padalog HD is available world-wide from Apple's App Store for the iPad: http://bit.ly/PadalogHD
Please visit http://www.Padalog.com for more Padalog HD information, including videos and screenshots.
About Padalog
Padalog is a Chicago-based Software as a Service (SaaS) and mobile application development firm focused on mobile marketing solutions for sales teams. Padalog helps companies increase sales and profits with interactive catalog apps for tablets and smartphones, including the Apple® iPad®, iPhone®, and Android®.
# # #
If you would like further information on Padalog, please contact:
Todd Musgrove
Media Specialist
Essential App Marketing
Phone: +1-312-543-1156
Email: todd(at)essentialappmarketing(dot)com