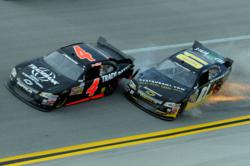 I hope we can do the same thing with USC that Mike did with Clemson, I'd love to race with a gamecock on the hood… it's always a good thing to have a little competition on and off the track!
Irmo, SC (PRWEB) November 16, 2012
NASCAR has a problem. Costs are rising and sponsors are becoming sparse. Many drivers are being forced to get creative with their sponsorships for 2013 and Danny Efland NASCAR Nationwide driver / owner is no different.
This fall marketing students from Clemson University helped NASCAR Nationwide driver Mike Wallace in his search for sponsors. The students also set out to raise enough money for the school to sponsor Wallace's car for one race. Danny Efland is asking the University of South Carolina to do the same for him. Only this time the school will have an entire year to accomplish this feat.
Danny Efland graduated from USC in December 2011 and has been able to race full time for the first time this year. Currently Efland is ranked 21st in the standings in the NASCAR Nationwide Series and hopes to improve upon that next year. "All it takes sometimes is the right sponsor to give you the boost you need to be even more competitive. I saw HOW Clemson was getting behind Mike and I thought maybe USC could do the same for me"- Danny Efland.
Efland graduated with an engineering degree and would welcome the opportunity to work with the engineering department to develop better parts for his racecar. "Anything that anybody can contribute I'll take, I am going for it this year and I will do whatever it takes to get where I need to be". Efland knows that this is not a typical strategy that most drivers take and he doesn't care; his path has never been the traditional one.
About Danny:
Danny Efland is a NASCAR driver who races for JD Motorsports in the Nationwide Series. He has also competed in USAR Pro Cup and the Camping World Truck Series. He graduated with honors from Dutch Fork High School and graduated from the University of South Carolina with a degree in engineering. For more information on Danny's career, please visit his website at http://www.dannyefland.com.