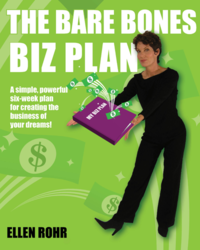 "The Bare Bones Biz Plan is a simple strategy for creating a business plan and using that plan to grow a business."
(PRWEB) November 19, 2012
A small business begins with dreams of success. Entrepreneurs desire the freedom from the unattractive lifestyle and limitations of the corporate ladder. Then, day to day burdens take over: errands, bills, phone calls, and of course, the actual work. Small business owners get stuck. Often the unspoken questions are muttered, "What am I doing?" and "Where am I going?"
Ellen Rohr, small business expert and author, has written a powerful business book titled The Bare Bones Biz Plan available through Amazon.com. The Bare Bones Biz Plan offers a simple strategy for creating a business plan and using that plan to grow a business. This book answers the questions that most small business owners ponder: "What am I doing?" and "Where am I going?"
The secret to any business is to craft a clear vision. Business plans help business owners stay on track. The Bare Bones Biz Plan is an easy to use book that demonstrates how to make a business plan step by step. The result is a customized business plan for creating and expanding a business.
Much like becoming physically fit with a sound diet and exercise, The Bare Bones Biz Plan uses time tested approaches to help entrepreneurs become fiscally fit. Ellen Rohr guides the reader through the process of creating a business plan:
"Take six weeks to build a business plan and assemble your "Biz Plan Binder". Focus on each component of your business for one week, at the end of six weeks you will have a rock solid and dynamic business plan customized for you. Your "Biz Plan Binder" will guide you and drive you to implement the plan and create the business of your dreams. The Bare Bones Biz Plan is an easy to read book that will help any business owner get on track to creating a profitable business."
Ellen Rohr is president of Bare Bones Biz, a venture capital and consulting company.