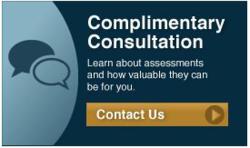 Best-in-class organizations are using assessments not only to understand the skills and traits employees have today, but also their capacity to grow. source talentmgt.com
Easton,MA (PRWEB) November 15, 2012
As Strategic Business Partners of Profiles International, BlueBell Consulting Solutions provide assessments with 82% accuracy that exceed the thirteen requirements set by the Department of Labor for assessments and meets all of the EEOC, ADA, DOL and Civil Rights Act requirements.
If you are a business owner or executive, have you ever asked yourself: why smart employees under perform? How you can do more with fewer employees? Or have you ever hired or added someone to your team thinking the person was going to be a star, and then the person turned out to be the complete opposite? Or would you like to reduce your employee turnover and increase your customer retention and loyalty?
At BlueBell Consulting Solutions, we provide information to business owners and executives that enable them to make better decisions regarding their people issues from pre-hire to retire using science and technology. Did you know that?
50% of an employee's work satisfaction depends on the relationship with his/her supervisor
50% of organizations are dissatisfied with new sales rep they hire
19% of sales rep turnover voluntarily each year
16% of sales rep turnover involuntarily each year
85%of employees leave due to conflict in the supervisor/employee relationship
17% of employees fail because they lack the necessarily motivation to excel
15% of employees fail because they have the wrong temperament for a job
23% of employees fail because they cannot manage emotions
May be you, your company or you department is not part of the stats yet, but if you are and would like to do something about it, then take advantage of the complimentary assessment that we are offering now risk free, no credit card or any type of payment required. Don't wait until you lose your best employee, be proactive, be ahead of the game.