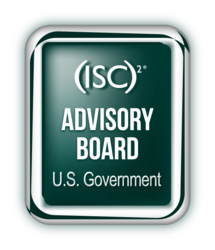 "We are honored to welcome these three accomplished federal security executives to the GAB," said Marc H. Noble.
Palm Harbor, Fla. (PRWEB) November 15, 2012
(ISC)2 ® ("ISC)-squared"), the world's largest information security professional body and administrators of the CISSP®, today announced it has appointed three new members to its U.S. Government Advisory Board (GAB). They are:

Carlos L. Edwards, CISSP, serves as chief, security operations and engineering, for the U.S. Securities and Exchange Commission (SEC). With over 18 years of experience in multiple facets of cyber security including incident response, forensic analysis, identity management, information governance, and risk and compliance management, Mr. Edwards is responsible for all aspects of cyber security strategy and deliverables to safeguard SEC business processes and enhance the enterprise security posture.
Steven Hernandez, CISSP, CSSLP, CISA, is the chief information security officer for the Office of Inspector General at the U.S. Department of Health and Human Services (HHS). His varied background in information assurance includes work for international heavy manufacturing, large finance organizations, academia, and government agencies. Mr. Hernandez is an expert on topics such as risk management, information security return on investment, and the implications of privacy in electronic commerce. He is the editor of the third edition of the Official (ISC)² Guide to the CISSP® CBK® to be released later this year.
Joe Jarzombek, CSSLP, PMP, is the director for software assurance (SwA) for the U.S. Department of Homeland Security (DHS). In this role, he leads government interagency public/private collaboration efforts with industry, academia, and standards organizations in developing a comprehensive program of workforce education and training, increased diagnostic capabilities, software automation, and security-enhanced development and acquisition practices. Mr. Jarzombek also co-leads the Software Assurance Forum that DHS co-sponsors with the Department of Defense (DoD) and the National Institute for Standards and Technology (NIST) to collaboratively mitigate software security risks.
These three federal executives will serve with (ISC)2's elite group of volunteer advisors from the U.S. public sector and industry organizations to provide insight and advice to the (ISC)2 executive management team on government policies and programs that affect the information security profession. In addition, the board oversees certifications for U.S. cyber security professionals and sponsors community outreach initiatives, including the Federal CISO Forum, the (ISC)2 Government Information Security Leadership Awards(GISLAs) and the (ISC)2 U.S. Government Advisory Board Executive Writers Bureau (GAB EWB).
The three new members were introduced during the GAB's quarterly meeting held yesterday, November 14, 2012 in Washington, D.C. "We are honored to welcome these three accomplished federal security executives to the GAB," said Marc H. Noble, CISSP-ISSAP, CISM, CGEIT, MBCI, director of government affairs for (ISC)2 and co-chair of the GAB. "Their expertise, proactive and strategic perspectives, and professional relationships are extremely valuable as (ISC)2 continues to expand its support of federal cyber security initiatives."
Established in 2003, the (ISC)2 GAB is one of several (ISC)2 advisory boards representing information security professionals worldwide. Other boards advise on information security workforce issues specific to: North America; Latin America; Europe, Middle East and Africa; and Asia-Pacific, as well as a global Application Security Advisory Board.
Links:
About (ISC)2
(ISC)2 Government Community
Media Contact:
Courtney Jewell Beveridge
Extension Group
703.234.7815
cbeveridge(at)extensiongroup(dot)com
©2012, (ISC)2 (ISC)2, CISSP, ISSAP, ISSMP, ISSEP, CSSLP, CAP, SSCP, and CBK are registered marks of (ISC)2, Inc.
Tags: CISSP, (ISC)2, cyber security, Marc Noble, information assurance
Follow (ISC)2 on Twitter and YouTube.