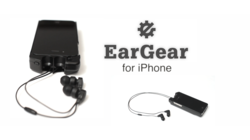 "Awesome! Finally a solution for tangled headset wires."
Salisbury, Maryland (PRWEB) November 16, 2012
A very cool new product stands out as something different and something truly useful in the world of iPhone accessories. The new Ear Gear is the world's only iPhone case with built-in, retractable earbuds and microphone.
More than just a case, more than just a headset, Ear Gear improves digital music quality and telephone calls with premium audio components, and the ultimate in convenience with patented Powertract technology.
Designed in Silicon Valley, Ear Gear solves the problem of tangled headset wires. For iPhones -and soon for other smartphones- the Ear Gear is "the best iPhone case yet" according to inventor Dan Fischer, who also developed and produces the Fischer brand of sport motorcycles.
Even with top shelf audio, the Ear Gear is only $39! Advance purchase of Ear Gear is available now through indiegogo.com or at the Ear Gear website.