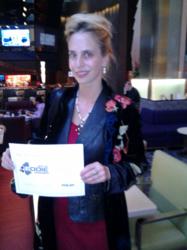 Our product is not your typical magazine because we go beyond what's on the surface and illustrate to our readers why the innovators we spotlight are game changing visionaries
New York, NY (PRWEB) November 28, 2012
The Eddie and Ozzie Awards program for digital and print magazine publishers presented EYES IN™ Magazine with the Bronze Award for "Best Digital Magazine Consumer App" on Wednesday, Nov. 14, 2012 at the Marriott Marquis Hotel in New York City. The annual ceremony organized by Folio Magazine celebrates excellence in magazine editorial and design. The Eddie and Ozzie Awards is the largest awards competition for all magazine publishers, their websites and digital apps. According to Folio Magazine's website, over 2,000 entries were narrowed down to 400 finalists in 140 categories for the 2012 program. EYES IN™ competed in the "Best Digital Magazine Consumer App" category against the Red Bull Media House North America's The Red Bull Bulletin (Gold Winner) and Hearst Corporation's The Big Black Spring Book 2012 (Silver Winner).
The event was well attended by magazine publishing giants and independent media houses. EYES IN™ Magazine's Editor-in-Chief, Vivian Van Dijk, was in attendance for the afternoon ceremony. Receiving recognition in the 2012 program gave EYES IN™ extra confidence to improve their product, and subsequently, they released a redesigned app to the Apple iTunes Store on Nov. 6. "Our product is not your typical magazine because we go beyond what's on the surface and illustrate to our readers why the innovators we spotlight are game changing visionaries," said Van Dijk.
November has been an exceptional month for the publisher as they released their redesigned iOS app and officially launched their branded Android app in the Google Play Store. The independent publisher, based in New York City, is known for spotlighting innovative creators in architecture, art, beauty, books, culinary arts, culture, design, fashion, film, finance, health, music, photography, real estate, science, technology and travel.
Issue 13 of the digital magazine can now be found on the Apple Newsstand, Android via Google Play, Barnes & Noble Nook, and Amazon Kindle. Back issues of the publication can be ordered via CreateSpace.com in printed format for $24.95, or through Lulu.com in eBook or print format for $7.99-$49.69, respectively. Readers can also get a fresh dose of daily content on the EYES IN™ website.
"I truly believe these stories are relatable to anyone looking for that 'ah-ha' moment on what it takes to be extraordinary. No two stories are the same and we showcase that on our website through multiple digital channels, also through our EYES IN™ eBooks and print editions," explained Van Dijk.
For more information on sponsorship, advertising, self-publishing, media coverage, or to schedule interviews with Vivian Van Dijk, please contact Desiree Frieson at press(at)eyesin(dot)com. Visit http://www.eyesin.com to read daily content and subscribe to the weekly newsletter.
About EYES IN™ Corp.
As a publisher of the world's innovative creators and their masterpieces, EYES IN™ spotlights innovation in fields of architecture, art, beauty, books, culinary arts, culture, design, fashion, film, finance, health, music, photography, real estate, science, technology and travel. It's a must read for anyone who wants to stay informed on global trends, upcoming sensations, and current celebrity visionaries in these areas. EYES IN™ delivers a state-of-the-art visual experience into the minds and works of the most stunning creators.