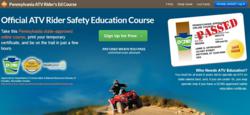 "Since we do not offer instructor-led training for adults, the new online ATV safety course gives Pennsylvania adults an opportunity to receive quality ATV safety training," said Jason Hall, recreation programs specialist
Dallas, TX (PRWEB) November 15, 2012
"Since we do not offer instructor-led training for adults, the new online ATV safety course gives Pennsylvania adults an opportunity to receive quality ATV safety training," said Jason Hall, recreation programs specialist for the Pennsylvania Bureau of Forestry. "In some cases, students can also submit their safety certificate to insurance companies for a potential insurance break."
Pennsylvania's ATV online safety course features interactive animations and illustrations that make it fun and easy to learn how to safely enjoy off-road riding. Students taking this online course will learn how to:

Maintain, operate and store their off-road vehicles.
Use correct riding techniques.
Ride hills and other challenging terrains.
Deal with unexpected conditions.
Pennsylvania's new ATV safety course is mobile friendly so students can take the course on smartphones, tablets, laptops, and Internet TV. Students can access the course on the Web even if the only way they have to connect to the Internet is via their smartphone. For more information, visit offroad-ed.com/pennsylvania.
Pennsylvania students ages 16 and older who want to receive their off-road vehicle safety certificate pay a one-time fee, which is due only when they pass the course. Upon passing the exam, students can print out the temporary certificate.
About Kalkomey
Kalkomey, parent company of offroad-ed.com, is an official provider of recreational safety education materials for all 50 states. An American company based in Dallas, Texas, Kalkomey produces print and Internet courses that have provided official safety certification since 1995. Kalkomey offers safety courses in boating, hunting, bowhunting, and off-road vehicle and snowmobile operation. For more information, visit http://www.kalkomey.com.