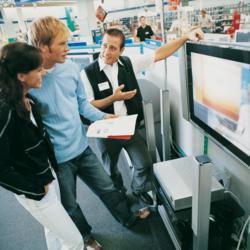 During the holidays, retailers ... find that out of stock items, discontinued items, returns and shipping charges are common causes for customer dissatisfaction.
Milwaukee, WI (PRWEB) November 15, 2012
You've made your holiday list and checked it twice, but when you head to the store how can you be sure your salesperson is not naughty, but nice?
The way you speak with sales staff can play a big role, according to a new customer satisfaction survey by ASQ, the leading authority on quality in all fields, organizations and industries.
The survey was conducted as part of World Quality Month, an annual, worldwide celebration of quality and its impact in the world. World Quality Month is observed by ASQ and a host of leading quality organizations, professional societies and academic programs each November.
The survey polled more than 600 quality and customer service experts worldwide who said managing customer expectations (29 percent) and communicating with customers (20 percent) are the top challenges in maintaining quality service. Other challenges include:

educating customers about products and services (16 percent)
providing customers with timely service (13 percent)
training and retaining good staff (12 percent)
These issues often lead to customer dissatisfaction. According to the survey, the most common customer complaints are:

long waits in line and shipping (25 percent)
lack of clear communication (20 percent)
errors or inaccuracies, like billing, payments, etc. (17 percent)
"During the holidays, retailers also find that out of stock items, discontinued items, returns and shipping charges are common causes for customer dissatisfaction," said John Goodman, ASQ member, customer service expert and vice chairman, Customer Care Measurement and Consulting.
Goodman suggests that customers take these steps to help ensure a positive sales experience.

Get to know the sales clerks at your favorite stores. This ensures that you will be in the loop regarding stores sales and events. A salesperson who knows you may also be more apt to help if a problem does arise.
Research store policies before you buy. Be aware of policies regarding cash refunds or sale merchandise returns can help you avoid problems later on.
So what happens when you run into a problem? Goodman offers these tips for successfully handling service complaints.

Take three deep breaths — when you are upset you may not think clearly and therefore often don't present your case logically.
Tell the company rep that you know that the problem is not their fault — this reduces their defensiveness.
After outlining the facts, state exactly what you want the rep to do for you — if you don't they might go off in the wrong direction in developing a response.
Don't ask for cash compensation for your time — companies can almost never do that, but they can give you credit toward your bill.
If you have been a long-term customer, point that out but don't exaggerate — employees can often access your actual purchase history.
Goodman notes that the simplest and most important thing you can do is to recognize good quality service.
About ASQ
ASQ is a global community of people dedicated to quality who share the ideas and tools that make our world work better. With millions of individual and organizational members of the community in 150 countries, ASQ has the reputation and reach to bring together the diverse quality champions who are transforming the world's corporations, organizations and communities to meet tomorrow's critical challenges. ASQ is headquartered in Milwaukee, Wis., with national service centers in China, India and Mexico. Learn more about ASQ's members, mission, technologies and training at http://www.asq.org.