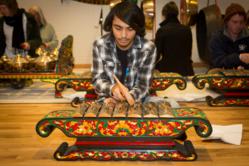 Santa Fe, NM (PRWEB) November 16, 2012
The Contemporary Music Department at Santa Fe University of Art and Design(SFUAD) announced that it has acquired a new Indonesian gamelan. As a central element of Indonesian culture, a gamelan is a set of instruments that includes xylophones, metallophones, bamboo flutes, drums and gongs.
The gamelan, made especially for the university, took several months to manufacture in Java, Indonesia. It replaces SFUAD's 200-year-old antique gamelan.
"Gamelan music is one of the most important components of world music studies," said Steve Paxton, chair of SFUAD's Contemporary Music Department. "It has been extremely influential since the late nineteenth century, when it first came to the attention of European composers. For a university as intimate as ours, it's rather prestigious and unique that we incorporate a gamelan into our world music program. We feel that it's important to expose our undergraduates to its influence."
According to Paxton, top schools with world music programs typically have gamelans on campus, including University of California, Berkeley; University of California, Santa Cruz; and Yale University.
Student and community ensembles are currently rehearsing with the new gamelan under the guidance of instructor Jenny DeBouzek of Albuquerque's Gamelan Encantada. Rehearsals will culminate in a joint concert on campus Dec. 2 at 7 p.m. in O'Shaughnessy Performance Space.
Midiyanto Mid, one of the United States' most respected gamelan authorities, will visit campus in the spring to work with students and community members.
For more information about the gamelan and to watch performances, visit http://midiyanto.net/.
About SFUAD's Contemporary Music Department:
The Contemporary Music Program at Santa Fe University of Art and Design educates students in contemporary and classical music, world music, digital technology and recording techniques, with a heavy emphasis on performing and community involvement. Throughout the year, students have the opportunity to tour, reaching different audiences and enriching not only their academic experience but also their ability to communicate through original compositions, their instrument and their voice.
About Santa Fe University of Art and Design:
Santa Fe University of Art and Design is an accredited institution located in Santa Fe, New Mexico, one of the world's leading centers for art and design. The university offers degrees in arts management, contemporary music, creative writing, digital arts, graphic design, film, performing arts, photography and studio art. Faculty members are practicing artists who teach students in small groups, following a unique interdisciplinary curriculum that combines hands-on experience with core theory and prepares graduates to become well-rounded, creative, problem-solving professionals. As a Laureate International Universities Center of Excellence in Art, Architecture and Design, the university boasts an international student body and opportunities to study abroad, encouraging students to develop a global perspective on the arts. Santa Fe University of Art and Design is accredited by The Higher Learning Commission and a member of the North Central Association, http://www.ncahlc.org.