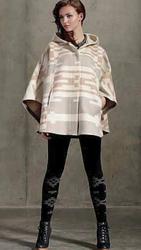 PORTLAND, Oregon (PRWEB) November 16, 2012
Building upon the Fall 2011 foundation, the new collection from Pendleton The Portland Collection has a wider range of woven styles in women's and men's, knits, accessories and blankets."Pendleton has long been known for plaids and jacquard patterns, but their repertoire expands beyond that to fabrics, like this unique stripe," according to Portland-based design team, Nathaniel Crissman, Rachel Turk and John Blasioli. Each season the team creates a completely exclusive fabric story for The Portland Collection. The expanded color palette and wider variety of fabric weights for Fall 2012 showcase the unique capacities of Pendleton Woolen Mills.
The Pieced Dress is a perfect example of Pendleton's vintage stripe pattern exquisitely engineered into a flattering and totally unique dress. The Portland Collection for Fall 2012 also pays special homage to jacquard patterns that reach back to the late 1800s and early 1900s to highlight the early squares designs of that era. These designs predate looms that were able to create angular motifs, such as arrows, giving these new fabrics an exciting, innovative feel. All of the designs are both exceptional and original. The distinctive bar theme of the Dolman Overcoat and the Banded Poncho, the perfectly cut back of the Bearchum Shift and flow of the Chevron Dress, are all one-of-a-kind signatures of The Portland Collection.
The Portland Collection's heritage-influenced designs for womenswear, menswear and home are made of woolen fabrics woven exclusively in Pendleton's Northwest Mills, with all of the apparel produced in the USA. The Portland Collection design team at Pendleton remains committed to Made in America.
The Portland Collection is sold in specialty stores in the United States, Canada, Europe and Asia. Online stores include saks.com, amazon.com and nordstrom.com. To locate a store, go to http://www.portlandcollection.net.
For samples or photography, contact Cheryl Engstrom, cheryl(at)engstrompr(dot)com or 425-487-0682.