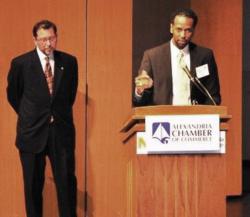 We are honored to be named the Alexandria Chamber of Commerce's Eco-Friendly Business of the Year.
Alexandria, VA (PRWEB) November 16, 2012
On the evening of Tuesday November 13th 2012, the Alexandria Chamber of Commerce recognized Marstel-Day, LLC as its choice for Eco-Friendly Business of the Year. The event, held at the Rachel M. Schlesinger Concert Hall & Arts Center, was attended by Marstel-Day's Anthony Pryor, who also accepted the award on behalf of the company. According to the Alexandria Chamber, the field consisted of 23 nominees across the various awards categories, and the selection process was lengthy and difficult. In order to be honored with any Business of the Year award, "the organization must be setting the standards for excellence and innovation with their business practices and community involvement."
In addition, the selection committee judged nominees on their accomplishments, innovations, and client testimonials. Marstel-Day's strong track record of being an environmentally sustainable, fast-growing, innovative, community service-oriented, and client-centric firm helped propel it forward as one of the big winners for 2012.
According to Marstel-Day President and CEO, Rebecca R. Rubin, "We are honored to be named the Alexandria Chamber of Commerce's Eco-Friendly Business of the Year. This recognition is especially touching because not only are we able to accomplish our day-to-day mission of conserving natural resources and promoting green ethics, but we're also able to spread our message to other organizations in the outstanding Alexandria business community."
Marstel-Day is a woman-owned, small, certified HUBZone (Historically Underutilized Business Zone) business with multiple prime contract vehicles and offices in Alexandria and Fredericksburg, Va; Oakland and Oceanside, CA; Dallas, TX; and Stennis Space Center, MS. The firms' Advisory Council members include former Department of the Interior, Department of Defense, National Oceanic and Atmospheric Administration, and Environmental Protection Agency officials, as well as decorated experts in environmental security and climate change. The company has received many awards for its "green" approach to environmental services, including the Alliance for Workplace Excellence Eco-Leadership Award and the Tayloe Murphy Resilience Award from the University of Virginia emphasizing green ethics and commitment in areas of high unemployment and low income, as well as environmental business achievement awards every year for the past seven years from Environmental Business International. Marstel-Day has also been named to INC Magazine's list of the top 5000 fastest-growing business for the past four consecutive years.