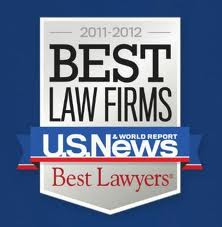 We are proud of our firm's reputation and inclusion in this selection of top law firms. We consistently work hard to achieve the best outcomes for our personal injury clients. We are truly devoted to each and every case
Harrisburg, PA (PRWEB) November 20, 2012
Navitsky, Olson & Wisneski LLP has once again been selected by U.S. News and World Report as one of the "Best Law Firms" in the Plaintiffs – Personal Injury category.
"We are proud of our firm's reputation and inclusion in this selection of top law firms. We consistently work hard to achieve the best outcomes for our personal injury clients. We are truly devoted to each and every case," said partner David Wisneski.
Released on November 1, 2012, the "Best Law Firms" rankings are based on a rigorous evaluation process that includes the collection of client and lawyer evaluations, peer reviews from leading attorneys in the same field and a review of additional information provided by law firms as part of the submission process.
To be selected, NOW Law ranked highly in the areas of expertise, responsiveness, understanding of businesses and their needs, cost-effectiveness, civility and client referrals, among other categories.
NOW Law's team of attorneys is comprised of personal injury lawyers, birth injury lawyers, and cerebral palsy lawyers, with reputations of excellence. The firm makes it their goal to provide experienced, skilled and aggressive legal representation to help its clients secure the financial compensation that they are entitled to.
On behalf of their clients, NOW Law attorneys have won jury verdicts in excess of $1 Million in multiple Pennsylvania counties as well as in Federal Court.
The firm is proud of their inclusion in U.S. News and Reports "Best Law Firms" 2013 rankings, and looks forward to maintaining a reputation of excellence in the future.
The law firm of Navitsky, Olson and Wisneski LLP is centrally located in Harrisburg, Pennsylvania, and serves clients throughout the state. Its attorneys represent injured clients and families of victims in birth injury, cerebral palsy, medical malpractice, and personal injury cases.
If you are in need of a Pennsylvania malpractice attorney, or a skilled and proven birth injury lawyer who understands your situation and will fight to obtain every dollar that you need to take care of your disabled child, contact NOW Law today. For more information about the firm, or to schedule a free initial consultation, please call the Pennsylvania medical malpractice attorneys at Navitsky, Olson & Wisneski LLP at 1-800-818-9608. You can also contact the firm online or visit its website at http://www.nowllp.com.