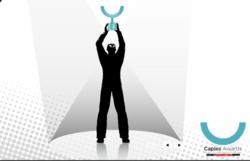 Google's Torrence Boone reveals the benefits of agile creativity.
NEW YORK, NY (PRWEB) November 16, 2012
Direct Marketing News today announced that Google's Torrence Boone will deliver a keynote presentation during its Caples Courageous Creative Summit & Reveal on December 6, 2012, in New York.
Boone, managing director, agency business development, of Google, Americas, will reveal how agile creativity leads to better ideas that break the mold and help a brand stand out in a crowded marketplace. He'll examine how to attain truly innovative creativity that will increase brand recognition, build customer engagement, and boost marketing performance.
"No agency, no matter how creative, can do what we call "courageous work" without the support and conviction of equally courageous clients," said Gary Scheiner, Caples' director of judging. "As the managing director of agency business development for Google, Torrence understands this better than most. We're thrilled to have him as our keynote speaker, setting the tone for a whole new focus at the Caples Awards."
This year the Caples Awards, which honors the best in direct and interactive marketing around the world, will celebrate the boldest, most creative solutions to today's tough marketing problems in a three-day summit. More than 50 senior creative directors from around the world will gather in New York to judge more than 700 pieces of submitted digital and direct creative work in 20+ categories on days one and two. On day three the Caples Creative Committee and Direct Marketing News will co-produce a full day of engaging and informative educational sessions that will celebrate creative and courageous work and ideas. The summit will culminate with a party to showcase the work and award the winners.
"Our day-long summit aims to create an opportunity for participants to network, learn from, and interact with a notable group of international creative leaders, including the Caples judges," said Direct Marketing News Editor-in-Chief Ginger Conlon. "As day turns to night, the discussion will continue over cocktails, and attendees will have the opportunity to view the world's most creative work in a Reveal that is bound to leave them inspired well into 2013."
The all new Caples, like the courageous work it showcases, is bolder and braver than ever. And it's designed to encourage interaction among the greatest minds in the business—like Torrence Boone. Those who attend the Caples Courageous Creative Summit & Reveal in New York on December 6 will be a part of the year's most magnificent marketing event.
About Caples: Formerly known as the The John Caples International Awards, Caples is an awards program and creative summit that honors the best in digital, direct and interactive marketing from around the world. Some 50 top global creative directors convene each year to judge international entries across diverse categories including content creation and microsites, mobile apps and email marketing.
Caples is owned and managed by Direct Marketing News, a Haymarket Media brand and the independent authority for digital and direct marketers. Caples was originally founded in 1978 by Andi Emerson, a direct marketing pioneer, in honor of famed copywriter and direct marketer, John Caples.