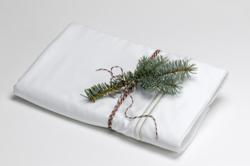 Our mantra at Sacred Sleep is that 'sleep is sacred, so are you.'
Salida, CO (PRWEB) November 16, 2012
Startup Sacred Sleep LLC announced today the launch of its Botanical Bed Collection of bedding made with an innovative blend of eucalyptus fibers and cotton. This fabric not only features luxurious softness but also provides health and sustainability benefits not present in other bedding fabrics.
"Our mantra at Sacred Sleep is that 'Sleep is sacred…so are you.' These luxury bed linens feel sacred—to the touch, but also to the spirit," said co-founder and CEO Jane Pinto. "They were designed originally for luxury hotels, and we are so pleased to be able to bring them to individual consumers."
These 350 thread count sheets are made from a USDA certified bio-based fabric that is a blend of eucalyptus fibers using the Lyocell process (48 percent) and cotton (52 percent). The sheets are crisp white with a double baratta embroidered satin stitch in a choice of four colors: Harvest Moon, Lavender Moon, Pearl Moon and Sapphire Moon. King sets are priced at $220 and queen sets are $200. The Botanical Bed Collection also includes white eucalyptus blend mattress covers: king size are $65 and queen are $60. Products can be purchased exclusively at http://www.SacredSleep.com.
Health Advantages of Our Eucalyptus Blend Bedding

The highly absorbent eucalyptus fibers release moisture away from the body, creating a dry, cool sleeping environment and decreasing night sweats.
They are hypoallergenic and antimicrobial, eliminating dust mites - a leading trigger for allergies, asthma and eczema - and creating an environment that is not conducive for bed bugs.
Sustainability Advantages of Using Eucalyptus

Eucalyptus trees are sustainably grown—naturally insect resistant, requiring no fertilizer or pesticides—and are highly water efficient.
The eucalyptus fibers are sustainably processed via a closed-loop system that uses only one, non-toxic chemical as a softening agent. This process reclaims and reuses 99 percent of this solvent.
This proprietary fabric blend saves the environment 2,986 gallons of water and 1.33 pounds of pesticide for each set of queen-sized sheets compared to a similar set made from 100 percent cotton.
Ease-of-Care Advantages of Our Eucalyptus Blend Bedding

The antimicrobial properties of the sheets keep them clean longer, requiring fewer washes. They are durable, won't pill, and get softer with washing—without fabric softener.
Sheet set packaging adds to the product's sustainability—consumers may choose to receive the sheets in a reusable locally made yoga bag or lovingly gift-wrapped in recycled Kraft paper and twine.
About Sacred Sleep LLC
Sacred Sleep, a division of Pinto Barn Inc., is a company dedicated to lifestyle sleep wellness and to creating sleep sanctuaries using products inspired by the original works of local artists. In addition to the Botanical Bed Collection, Sacred Sleep's initial product offering includes custom locally made pottery mugs, tea bowls and medicinal herb loose-leaf teas in custom daytime and nighttime blends as well as giclee fine art prints. Sleep is sacred, so are you.
About Pinto Barn Inc.
Founded in 2011, based in Salida, Colo., Pinto Barn is a collective of entrepreneurs and inspirational and educational thinkers and doers with a mission to create products and services that enable people to live whole lives. Our goal is to build a unique company that thrives at the intersection of profitability and social responsibility. Divisions include Sacred Sleep and Don't Go Nuts.