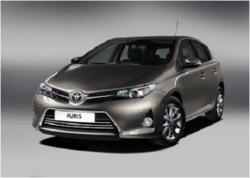 (PRWEB UK) 15 November 2012
TOYOTA is pushing the new British-built Auris onto the market with a strong cost of ownership message that should appeal to business users. The stars of the new range – at least as far as the sums are concerned – are the Toyota Auris Hybrid and the diesel-engined Toyota Auris 1.4 D-4D.
In mid-range Icon trim, the Auris Hybrid, which has a P11D value of £19,940, emits just 87g/km of CO2 and has a combined cycle fuel consumption of 74.3 mpg.
Company car tax bands for this year and the two subsequent years are 10, 10 and 11 per cent, much lower than the rates for diesel-engined competitors with similar economy and emissions figures.
Based on data from KWIKcarcost, Toyota says that the the Auris Hybrid Icon has lower driver personal costs over three years and 60,000 miles than those diesel rivals – the advantage compared with the soon-to-be-launched Honda Civic 1.6 D-TEC SE comes out at £614, for example.
The 1.4 D-4D diesel has been re-engineered and now gets a stop/start system that helps it to achieve 103g/km and 72.4 mpg – again in mid-range Icon trim. Toyota, citing KWIKcarcost data, says that gives it a lower pence-per-mile cost for business users than the closest Focus, Astra Golf and i30 equivalents.
Finally, CAP data point to improved residuals for the new Auris; the top-of-the-range Auris Hybrid Excel is predicted to retain 34 per cent of its value over three years, an improvement over the old T Spirit model of five percentage points.
Ewan Shepherd, Toyota General Manager Fleet and Remarketing, said: "The economic climate dictates that businesses have to scrutinise every aspect of their costs. Looking at new Auris's cost profile there are significant financial advantages to be gained for both fleet operators and business/company car drivers by choosing Auris.
"Auris continues to deliver the most competitive ownership costs, which makes it a rational choice for business, but the new model introduces improved design and driving dynamics that give it more emotional appeal, too. As a key element in our strategy to provide customers with more desirable and competitive products, we believe it will have a particularly strong appeal to small and medium-size businesses."
Business Car Manager has a variety of useful guides including business car lease, business car profiles and detailed reviews including SEAT reviews among others.
For more information, visit Business car Manager at http://www.businesscarmanager.co.uk/.