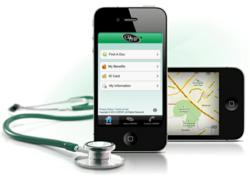 Albany, NY (PRWEB) November 15, 2012
CDPHP® has launched a mobile app designed to make life easier.
My CDPHP Mobile allows members to access important benefit information, like copay amounts or deductible balances; view, email or fax your member ID card; locate the nearest doctor, hospital or health care facility on the go!
The app, which is available for Android, iPhone, iPad and Blackberry users, also includes the recently revamped Find-A-Doc app, which features a fresh new look, enhanced search capabilities and more flexibility to find a network provider, hospital, urgent care center and more.
"Technology has forever changed the way people access information," said John Demers, vice president of advertising and public affairs for CDPHP. "With My CDPHP Mobile and the improved Find-A-Doc app, our members can always have their health plan information at their fingertips."
My CDPHP Mobile joins the popular CDPHP® InMotion, a free fitness tracking app that allows users to effortlessly upload and save workout routines and nutritional information, create and map exercise routes, and share that information with friends.
More than CDPHP 5,000 members are already experiencing a new way to safely and securely access their health plan information with the My CDPHP Mobile app. Our data shows that a growing number of members also access the CDPHP.com website via their mobile device.
For more information, including an interactive interview with John Demers, please contact Deanna Amore at (518) 698-2934 or damoremi(at)cdphp(dot)com.
About CDPHP®
Established in 1984, CDPHP is a physician-founded, member-focused and community-based not-for-profit health plan that offers high-quality affordable health insurance plans to members in 24 counties throughout New York. CDPHP is also on Facebook, Twitter, or LinkedIn.