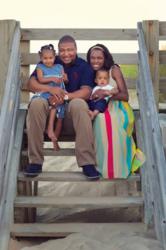 Losing an infant to complications from premature birth is more common than most people realize. This is an issue that could touch the life of anyone you know.
washington, DC (PRWEB) November 15, 2012
Tiffany and Stephen Bowen—a defensive lineman for the Washington Redskins—have launched Skyler's Gift Foundation in honor and memory of their son Skyler Bowen, who passed away from complications of prematurity last year. The timing of the announcement coincides with World Prematurity Day, held on November 17. This day aims to raise awareness on the 15 million babies born too soon each year and works to raise desire to address the problem.
In June 2011, Tiffany gave birth to twin boys, Stephen and Sklyer. The boys were born prematurely at just 24 weeks—which is right at the brink of viability. Only weeks after their birth, the Bowen's lost Skyler from an infection his immune system just could not fight off. Motivated by this loss and wanting to give back to others, Tiffany and Stephen Bowen created Skyler's Gift to provide financial support to families in need that have lost newborn babies from complications of premature birth. They believe no one should have to face this loss alone and especially without the needed resources in place.
"During our experience, we saw a need for more resources for families who endure the loss of their babies from prematurity," says Tiffany Bowen, "It's not just emotional pain but financial challenges as well. We want to provide financial support that helps families in need with mortuary and burial cost and grief counseling. We also plan to support research to help decrease the incidence of premature loss."
While many services are in place for families during hospitals stays in the NICU (Neonatal Intensive Care Unit), Tiffany and Stephen found that after a loss the support is simply no longer there. That's where they hope Skyler's Gift will step in. The foundation will work to raise funds in support of families in need of financial assistance for mortuary and burial costs as well as grief counseling and support groups for moms and dads and siblings. Skyler's Gift will also support ongoing research to prevent premature births and deaths and raise awareness of and provide education on this very personal issue that touches so many people.
The Bowens felt compelled to create a foundation in response to the outpouring of so many who wanted to know how they could help. They encourage everyone to get involved in this important cause and actively support Skyler's Gift Foundation.
"People don't think that things like this happen to professional athletes, famous people and people with money," says Stephen Bowen. "This tragedy has no prejudice. It can happen to anyone no matter how great the prenatal care the mother receives or how healthy she is. No one is immune."
"Losing an infant to complications from premature birth is more common than most people realize. This is an issue that could touch the life of anyone you know," adds Tiffany Bowen, "People can get involved a few ways. They can donate directly through Skyler's Gift's website or come to one of our events."
Tiffany and Stephen Bowen believe that no one organization alone can support families and research for ending prematurity. They hope to partner Skyler's Gift with other organizations whose missions and visions reflect their own. Skyler's Gift will provide funding to these organizations to further their important work and work together with partners to promote eachother's work and events.
The launch of the organization also kicks off their first annual fundraising drive to raise money for families for funeral and counseling costs, something very needed yet underfunded. On May 4 2013, Skyler's Gift will also host their first major fundraising event "Redskins vs. Cowboys Bowl-a-thon" at Lucky Strike in Washington, DC. The event will feature Stephen Bowen as well as other NFL players. It's a chance to meet, greet and bowl with NFL players as well as donate to Skyler's Gift Foundation. More details will be made available on Skyler's Gift website as the event gets closer.
To learn more the new foundation, make a donation or consider partnership opportunities, visit the organization's website at SkylersGift.org.