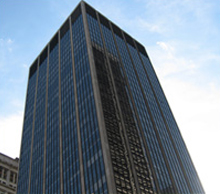 Within minutes, we got people back online, connected to mission critical programs, provided telephone service, and anything else they needed to get back to business.
New York, NY (PRWEB) November 16, 2012
Corporate Suites Business Centers has rented temporary office space to companies displaced by flooding, power outages and building damage related to Hurricane Sandy. Corporate Suites Business Center at 22 Cortlandt Street in Downtown New York is a premier office location which is now a temporary home for many companies that operate in the financial district who have been displaced from their permanent offices after the storm.
"Immediately following the storm, we received many phone calls and e-mails from companies seeking temporary office space in Midtown and Downtown Manhattan because many buildings in the area were heavily damaged from flooding, and thus without electricity, internet and phone," says Eugene Gutsalo, manager at Corporate Suites. "Our Downtown and Midtown locations were ready for immediate occupancy, with electricity, phone and internet, and our staff worked overtime to get companies situated with temporary offices."
Even a full two weeks after Sandy's landfall, the effects of the historic storm are still lingering, particularly in the lower portions of Manhattan. For an extended period, subways did not run further south then 34th Street due to extensive flooding and a lack of electrical service. Subway service has been partially restored, with PATH service to and from World Trade Center expected to be under suspension for several weeks. Utility crews are still in the area to restore power to 100%, but for some buildings, it may be several weeks until water is pumped and buildings are restored to operational condition.
For many companies, several weeks is too long to be out of work. The New York Stock Exchange re-opened Wednesday, October 31st, running on generators and resuming high frequency, global financial activity. Corporate Suites reopened their Cortlandt St. location on the same day and immediately began relocating firms into temporary office space.
"Within minutes, we got people back online, connected to mission critical programs, provided telephone service, and anything else they needed to get back to business," noted Hayim Grant, President of Corporate Suites. "While the events of Hurricane Sandy are incredibly unfortunate, we understand the need of companies and business professionals to continue operations and get back to business. And that's exactly what we specialize in at Corporate Suites – furnished office space in New York City that's ready at a moment's notice."
Financial District office space may be in high demand, but it isn't the only area experiencing the pains of relocation and recovery after Sandy. Other areas of Manhattan, including Chelsea, Soho, Tribeca and the Lower East Side are still experiencing power outages and service disruptions. Outside of Manhattan, companies of New Jersey, Long Island and Connecticut remain without an office due to wind and water damage.
"We have not only focused on the Financial District, but offices in Midtown that provide a good temporary accommodation for those displaced by Hurricane Sandy," says Grant. "Midtown Manhattan office space is excellent due to it's accessibility by subways, bus and commuter rail. Our location at 1001 Avenue of the Americas is great for firms with employees in Long Island and New Jersey thanks to its proximity to Penn Station."
"Another location that we've been able to utilize in accommodating firms is 275 Madison Avenue, outside of Grand Central Station and near Bryant Park and Times Square. Because of its centralized location, it's a great option for firms with many employees in areas north of Manhattan that have access to MetroNorth. We've also seen a rise in meeting space and virtual office rental at this location as many people are choosing to work off-site after the storm, but still need to maintain a presence and meet with clients in Manhattan."
New York City is the city that never sleeps, but for many, Hurricane Sandy became a business nightmare due to extensive damage. Corporate Suites has specialized in temporary offices and helping firms through transitional periods with its flexible, furnished office space in New York City which provides all the amenities of a corporate headquarters and helps companies get back to work after disasters big or small. "We're glad to report all our clients and employees are safe, and just like our customers in New York, we're looking forward to getting back on track after the storm. New York is an incredibly resilient city that thrives due to its economic prowess, and we established our business on helping companies recover from dislocation, as well as helping companies grow and expand their market in New York City. Simply put, we handle the office space so they can focus on their business."
About Corporate Suites: Corporate Suites is one of the largest serviced office space providers in New York City. With over a decade of experience managing hundreds of executive office suites for thousands of satisfied clients, we will provide and professionally manage the perfect office solution for your business. Find more detailed information at http://www.corporatesuites.com/.