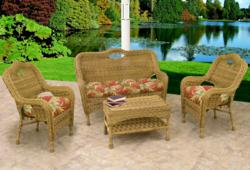 The Savannah Collection from North Cape is classic, timeless, well made, excellent value for money, comfortable to sit on and good looking.
Dealing with Annie's Wicker has been a pleasant online shopping experience.
Browns Mills, NJ (PRWEB) November 15, 2012
Those unfamiliar with this online retailer can just Google "Annie's Wicker" to see the variety of color choices offered for outdoor wicker furniture. Gone are the days of only white or brown finishes. Annie's Wicker has up to twelve color finishes for many of their outdoor wicker collections.
Annie's Wicker is constantly adding new brands and choices to their wicker collections. They currently specialize in furniture manufactured by North Cape International and offer more color finishes than many other dealers.
Annie's Wicker launched its website in 2010, and have recently added natural wicker products such as bedroom furniture as well as additional collections of outdoor resin wicker and patio sets to their online store.
Annie's Wicker offers outdoor resin and wicker furniture designed and imported from leading manufacturers. Their factories use the highest quality materials in the construction of these goods. The furniture is resin wrapped over aluminum frames and is guaranteed against defects.
Natural and Man made products.
Annie's Wicker utilizes both in the construction of our furniture. Some very familiar words like Rattan, Cane, Reed and Bamboo are found in nature, are renewable resources, and can be woven into beautifully textured, fashionable pieces. Most of these materials are grown in warmer climates.
Resin – All Weather Product
This newer category uses man-made materials to best weather proof their products. It is commonly referred to as resin wicker, all weather wicker, outdoor/indoor wicker, porch and patio wicker, poolside wicker and resin wicker. Like natural materials it can be woven and constructed into a wide assortment of designs both classic and contemporary. The smooth finish of this man-made product lends itself to an endless choice of both practical and specialty uses throughout your home or outdoor seating area. Resin material helps to insure that the color holds naturally throughout the thickness of the cane. With a minimal amount of care resin wicker will stay comfortable and look rich and inviting for years to come.
The designs are timeless and nostalgic with classic charm. They are unique pieces for discriminating tastes. They offer this furniture in up to 12 color finishes to ensure the best match for any decor inside or out. Along with hundreds of fabric choices to use for cushions.. Select from large seating, small seating, dining tables and chairs, Bar stools, chaise lounges, rockers, gliders, porch swings and wicker bedroom furniture and accessories all at discounted prices.
For more information about Annie's Wicker, or to start shopping for the upcoming season, visit http://www.annieswicker.com.