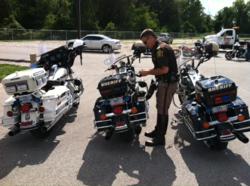 It's incredible how charitable the motorcycling community is in Indiana, and Ride for Health & Heroes was a great example of that.
Indianapolis, Indiana (PRWEB) November 16, 2012
Sevenish Law was proud to sponsor the inaugural Ride for Health & Heroes on September 9, 2012 in Danville, Indiana. All proceeds from this charity motorcycle ride went toward supporting health services for families in need and surviving family members of slain law enforcement officers through the Indiana Sheriffs' Association.
Sevenish Law was one of three Platinum Sponsors of this event.
"We were thrilled to be a part of this positive event and we can't wait to participate again next year," said motorcycle injury lawyer and riding enthusiast Randall Sevenish.
The Sunday event drew well over 100 motorcycle enthusiasts from across the state.
"It's incredible how charitable the motorcycling community is in Indiana, and Ride for Health & Heroes was a great example of that," said Sevenish.
Bikers who participated in the Ride for Health & Heroes took a 114-mile, scenic tour throughout Hendricks County and the surrounding area, with police escort. The ride included an opportunity to drive around the Emergency Vehicles Operations Course at the Indiana Law Enforcement Academy in Plainfield. This was the first time this special training course for law enforcement officers was used as part of a charity ride event. The ride was followed by live music from Ashley Wilcox and the Cosmos, a raffle and prize drawings, plus vendors, food and refreshing drinks.
"Motorcycling can be extremely enjoyable, but riders must venture out on the road with care, caution, and vigilance. A severe motorcycle accident can be a life-changing event," said Sevenish, an active member of the motorcycle community for more than 30 years.
Motorcyclists who took all the appropriate measures to stay safe and were still injured by the negligence of another, may have a valid motorcycle accident claim for compensation.
If you are looking for an experienced motorcycle lawyer with a strong record of successful settlements and verdicts to help with your legal matter, contact the Sevenish Law Firm at (800) 278-9200.
About Sevenish Law Firm:
Sevenish Law is a law firm that serves clients throughout the Indianapolis, Indiana area, and state-wide for that matter, by providing quality, aggressive and compassionate legal representation for serious injuries caused by a motor vehicle, motorcycle, bicycle crash, wrongful death and other negligence claims including law enforcement and public safety officers injured in an on-duty or off-duty crash.
Randall Sevenish has represented injury victims since 1985. Before practicing law, Sevenish was a captain in the Marion County Sheriff's Department. He founded the county's SWAT team, attended the FBI Academy, and was honored as "Police Officer of the Year" by the City of Indianapolis for his efforts as a police instructor. Law enforcement, as well as his martial arts training and his deep religious faith, shaped his character, and gave Sevenish valuable life and practical skills, well beyond law school, that he employs in seeking aggressive and spirited compensation for his clients.
Sevenish Law Firm takes cases throughout Central Indiana which includes Indianapolis and statewide, from South Bend and Fort Wayne to Terre Haute, Columbus and beyond.