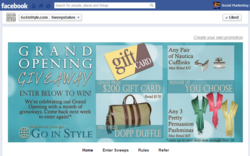 "Votigo's referral feature was critical...in getting our new-but-growing audience to share the promotion with other friends and likely potential customers," said Kristi Daeda, Internet Marketing Manager of GoInStyle.com.
San Francisco, CA (PRWEB) November 15, 2012
Votigo, a leading provider of social marketing and promotions technology, announced today the latest enhanced features and new apps to its powerful self-service promotions platform. These features- from the addition of Mandarin as the platform's 10th language selection, to a flexible new iFrame app- are designed to make Votigo's standard Facebook and mobile promotions apps more viral, targeted and flexible for business customers looking to engage and activate their social audiences as customers.
Votigo also powers an enterprise-class SaaS Social Marketing Suite, and innovative promotions that run across all social platforms, including YouTube, Instagram, Twitter and more. But Votigo's self-service software platform is specifically designed to make it easy and cost effective (at $250 / month for Unlimited Promotions) for brands and agencies of all sizes to begin engaging fans and acquiring customers on Facebook and mobile.
"Votigo's new features are important for us in engaging our brand's growing audience," said Alexander Hagard Gronwall, Co-Founder and Marketing Director of Pambox, a Thailand-based beauty sample subscription service that recently ran a giveaway promotion in Thai that also tied in the L'Occitane brand. "For a start-up, it is critical for us to be able to target our audience right down to their language preferences. The viral features are a bonus."
The latest release to Votigo's self-service promotions platform include:

iFrame App: A flexible HTML app with a simple WYSIWYG editor that allows brands to customize a dynamic Facebook tab with multiple elements include text, images, video and other embeddable objects- including Votigo-powered promotions;
Referral Incentive Sweepstakes: a simple, measurable feature that reinvents the classic promotion, making the sweepstakes app more viral by rewarding entrants who share the promotion with additional entries for each social friend they successfully refer to the sweepstakes;
Promotions Messenger: A valued-added feature for scheduling posts about promotions to Twitter, Facebook, LinkedIn and Google+ audiences. The posts are optimized for mobile users and customized with images and text. The feature is also an introduction to Conversation Manager, a robust tool within Votigo's full Social Marketing Suite;
Mandarin: The 10th language available to self-service customers, who can now choose to launch promotions in English, Spanish, German, French, Portugese, Thai, Japanese, Korean, or Indonesian, positioning Votigo as one of the most turnkey options for today's globally-focused brand marketers.
"In launching our new travel goods web retail brand GoInStyle.com, we needed a way to quickly boast the number of engaged fans in our Facebook audience," says Kristi Daeda, Internet Marketing Manager of GoInStyle.com. "We devised a weekly giveaway with all the elements- from great prizes to low barriers to entry. The referral feature was critical, though, in getting our new-but-growing audience to share the promotion with other friends and likely potential customers."
For further updates and information about Votigo's Social Marketing Suite as well as to the self-service promotions platform, please visit http://www.votigo.com.
About Votigo
Votigo is a top-tier social marketing technology company used by some of the most recognized brands and agencies in the world. Votigo was named the #21 fastest growing software company on the 2012 Inc. 500|5000 list and #242 overall. Votigo's Social Marketing Suite includes best in class Promotions & Engagement Apps, Social Conversation Manager, Social Contacts and Analytics. Customers including Starwood Hotels & Resorts Worldwide, Ford, Sony Online Entertainment, Corona, Sharpie, and GoPro use Votigo to acquire, engage, and manage customers across social channels including Facebook, Twitter, YouTube, Instagram, Pinterest, Google+, LinkedIn, Mobile and the Web. With offices in San Francisco, Boulder, and Hyderbad, Votigo is a Facebook Preferred Marketing Developer and a Google Engagement Solutions Developer. For more information, please visit http://www.votigo.com.